Car crash in Orange County sends children to hospital
ORLANDO, Fla. - An infant and two young children were hurt in a crash in Orange County on Wednesday. Two vehicles were involved at the intersection of Daetwyler and Jetport drives in Orlando around 2 p.m. 
Witnesses tell FOX 35 News that a black car was heading towards the airport when a second silver vehicle blew through a red light and hit the car. 
"We were on our way, like I said, to the airport and it just, 'Boom!' like once the car hit it, the other car spun around hit this pole and then continued to drive up there but I thought that car was going to end up in oncoming traffic coming that way. It would have made the situation way worse than it is," John Johnson said.
He said he not only saw the crash happen before his eyes but it was his family in the car that was struck. Inside the black car, was an infant and her seven-year-old brother. As of Wednesday afternoon, the family shared with FOX 35 News that they were in the hospital receiving treatment.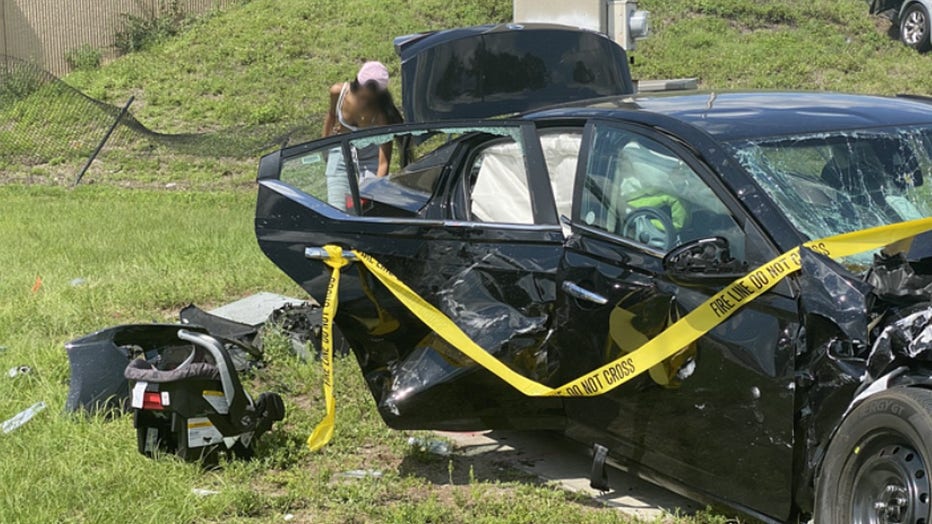 According to Audrey Johnson, she and a dozen or more family members were heading to the airport in separate cars when the crash happened. 
"It was bad. It was bad," she said, seemingly stunned hours later.
She too saw the accident happen. She said about 15 family members were visiting Walt Disney World for a family vacation. They were on their way back home to Chicago when it happened.
"My niece was bleeding out of her ear. Her momma was slumped over. And, it was just bad," she said. 
Family members explained that they are staying in Florida to help their family recover, but they aren't sure how they will afford the stay since they had only budgeted for five days. 
The Florida Highway Patrol is investigating the crash. Charges had not been filed as of Wednesday night.