Burgarly suspects caught in the act, arrested moments later: deputies
ORLANDO, Fla. - Three men were arrested moments after detectives with the Osceola County Sheriff's Office said they witnessed the suspects burglarizing several vehicles in the Poinciana area.
The sheriff's office shared videos of three suspects who appeared to checking door handles of parked cars. Immediately after the alleged burglaries, the suspects fled the area in a white vehicle as sheriff's office helicopter tracked them from overhead. 
As the car was fleeing, spike strips were deployed, successfully deflating the vehicle's tires. The suspects ran into a wooded area near Country Club Road and Bogie Lane in Poinciana but were eventually taken into custody with the help of aerial surveillance and a K-9 unit.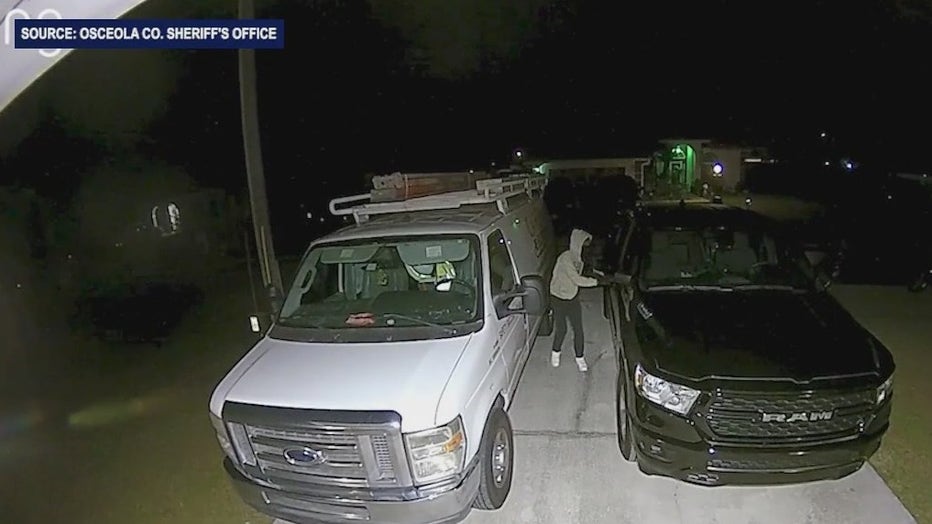 The Polk County Sheriff's Office also assisted in the arrests, according to the Osceola County sheriff.
The suspects, identified as Isaac Anthony Blanco, Angel Manuel Saldana, and Elhadji Amadou Ndiaye, face multiple charges including burglary and resisting arrest without violence.  Blanco faces an additional charge of violation of probation or community control.