Brevard Humane Society caring for emaciated, injured dog
BREVARD COUNTY, Fla. - The Brevard Humane Society is caring for an emaciated dog that was found on the side of a road.  The man who found her on Cox Road in Cocoa thought she had been hit by a car, but that was not the case.  Instead, she was starving, extremely weak, and in need of help. She's now getting it.  
According to the Brevard Humane Society, the dog is a 2-year-old lab mix who shelter volunteers have named Daisy.  When they got her at the beginning of December, she was just skin and bones. Daisy has been starved and has severe lacerations on her front legs, one of which is to the bone.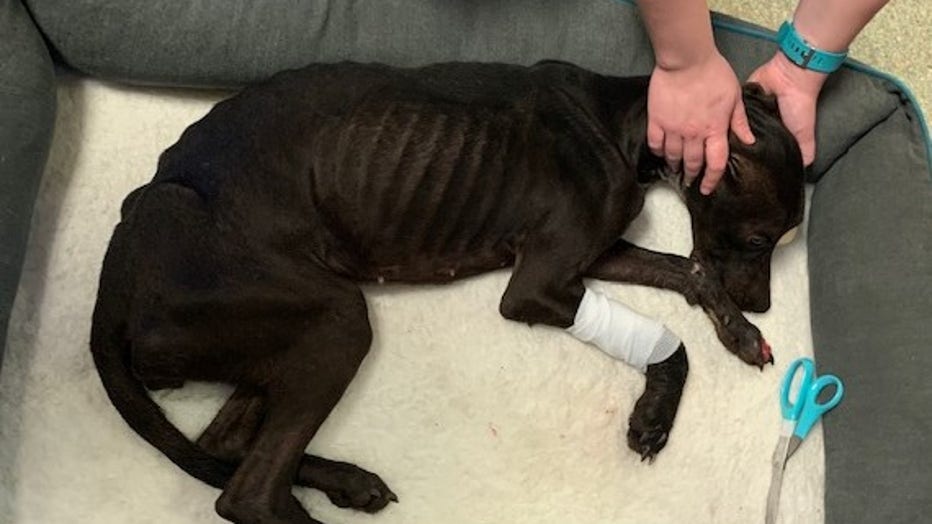 They said, "She could not stand as she was so weak, it is just heartbreaking and she cannot tell us who did this to her. She is so sweet and now fighting for her life."
Officials say Daisy's injuries and body condition are in a "critical state."  A veterinarian is working on her, trying to save her life, though she might need a front paw amputated.
The Humane Society says Daisy loves people but is not friendly around other animals and she needs to be the only dog in a home. She has been through a nightmare, but maybe 2020 has something good in store for Daisy.
Daisy's caretakers are asking for donations to help in her recovery.