Louisville police engage in pattern of discrimination, Justice Dept. finds
The U.S. Justice Department has found Louisville police have engaged in a pattern of violating constitutional rights following an investigation prompted by the fatal police shooting of Breonna Taylor.
The announcement was made Wednesday by Attorney General Merrick Garland. A Justice Department report found the Louisville/Jefferson County Metro Government and Louisville Metro Police Department "engage in a pattern or practice of conduct that deprives people of their rights under the Constitution and federal law."
The report said the Louisville police department "discriminates against Black people in its enforcement activities," uses excessive force and conducts searches based on invalid warrants. It also said the department violates the rights of people engaged in protected speech, like the street protests in the city in the summer of 2020.
READ MORE: Breonna Taylor's boyfriend settles lawsuits over deadly shooting during police raid
"This conduct is unacceptable, it is heartbreaking," Garland said.
The sweeping probe announced in April 2021 is known as a "pattern or practice" investigation — examining whether there is a pattern of unconstitutional or unlawful policing inside the department.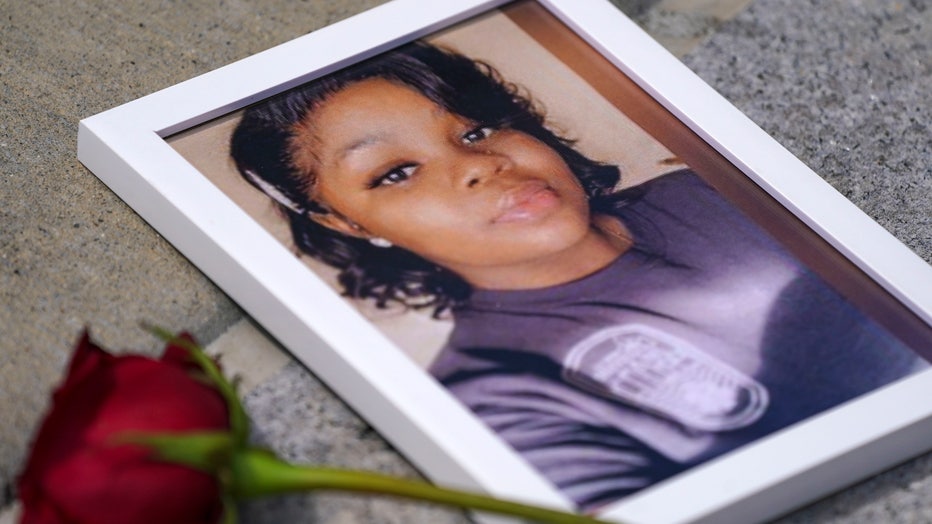 A photo of Breonna Taylor is seen among other photos of women who have lost their lives as a result of violence during the 2nd Annual Defend Black Women March in Black Lives Matter Plaza on July 30, 2022 in Washington, DC. (Photo by Leigh Vogel/Getty
Taylor, a 26-year-old Black woman, was roused from her bed by police who came through the door using a battering ram after midnight on March 13, 2020. Three officers fired shots after Taylor's boyfriend, fearing an intruder, shot an officer in the leg. Taylor was struck several times and died at the scene.
The warrant used to enter her home is now part of a separate federal criminal investigation, and one former Louisville officer has already pleaded guilty to helping falsify information on the warrant. No drugs were found in Taylor's home.
READ MORE: Breonna Taylor raid: Ex-officer cleared in deadly shooting
Louisville police have undergone five leadership changes since the Taylor shooting, and new Mayor Craig Greenberg is interviewing candidates for the next chief. The city has settled a number of lawsuits related to the incident, including a $12 million payment to Taylor's family that ended a wrongful death lawsuit.
Since 2020 the city has banned no-knock warrants, started a program that aims to send behavioral health professionals to some 911 calls, expanded community violence prevention efforts and sought to support health and wellness for officers, the report said.