Family hoping to find EMT that helped save their son from drowning in Mexico
ALLEN, Texas - On Friday, an Allen boy will get to celebrate the birthday he almost didn't have after being trapped at the bottom of a resort pool while on vacation with his family. 
His parents are now on a mission to find the EMT who saved their son's life, but doesn't know it. 
Remarkably, 7-year-old Titus Stoehr has no signs of any brain damage, despite being trapped at the bottom of the swimming pool for about seven minutes.
The soccer and hockey-loving boy is as quick on his feet as he is with his words.
"Math is one of my favorites, so is recess," Titus said.
As Titus prepares to celebrate his 8th birthday, aside from a small scar on his wrist, there is no physical sign that he nearly died back on May 25, 2022, when he was with his mom swimming at a hotel resort in Playa Del Carmen, Mexico.
"I asked him to grab the last of his diving toys at the bottom of the pool," Titus's mother, Angie, recalled.
Little did they know, the cover was off the drain at the bottom of the four-foot deep pool.
"So I just put my hand in there to try to fish it out, but then got my hand stuck," Titus recalled.
"I thought, 'Oh, he's still at the bottom getting his toys,' but then his legs were kicking weirdly. Mom's intuition, I dove in thinking that this was normal, that he just stayed down too long, then I realized he wouldn't move," Angie said.
She then screamed for help. Several men jumped in, while others went to try to figure out how to turn the pool equipment off.
"There were four grown men pulling on him," Angie said.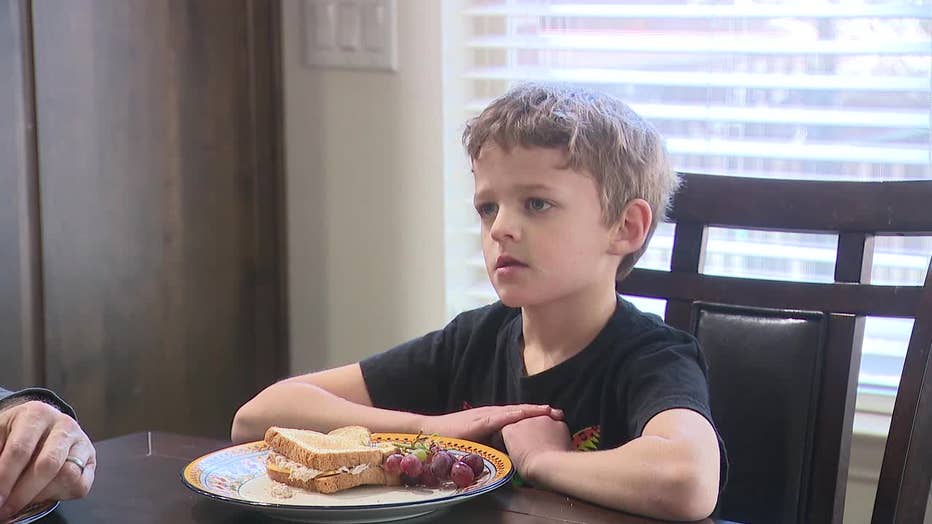 READ MORE: Plane with supplies for Turkish earthquake survivors set to leave North Texas
As an OBGYN, Angie knew brain damage could set in after just three minutes without oxygen. 
"After maybe four or five minutes, I screamed for someone to cut his hand off," she recalled. "That has been really hard for, getting over someone to hurt one of my kids."
Then, Angie thinks someone managed to turn the suction off. 
"A man pulling him out, he was gray, he wasn't moving. He wasn't breathing. He had been under about seven minutes," Angie said. "The man who pulled him out of the water happened to be an EMT, so he had already started compressions and I started mouth to mouth."
The EMT stayed with them on the ambulance to the hospital but left shortly after.
"[Titus'] pupils were fixed and dilated, which is typically a sign of brain damage. He was having seizure-like activity," Angie said.
The Stoehr's don't know the EMT's name, or where he lives. They just know he had an American accent. 
"Before he left, he hugged me and said, 'I am so sorry, I wish I could have done more.' That man doesn't know my son is alive," Angie said.
Days later, at Cook Children's Medical Center in Fort Worth, Titus spoke for the first time.
"Titus looked up and said I love you daddy," Angie said. "And that's about the time we kind of figured out he knew who we were, he could talk."
The medical staff was relieved to see this outcome.
"She came in with misty eyes and said, 'I want you know it is really nice to see this, because this is not how this usually ends," Angie said. The intensivist at Cook Children's told us she really believed the only reason he's alive is because there was high-quality CPR at the poolside."
"We know we can celebrate life and many more happy years. So thankful and blessed that he's here," Titus' father, Regan, said.
A few lessons the Stoehr's said they learned is that everyone should become CPR certified and people should check to ensure pool drain covers are on.
Anyone with information about the EMT who helped save Titus' life can email FOX 4 reporter Lori Brown to get in touch with the family.