Alachua County Sheriff dispatchers help woman with fashion 'emergency'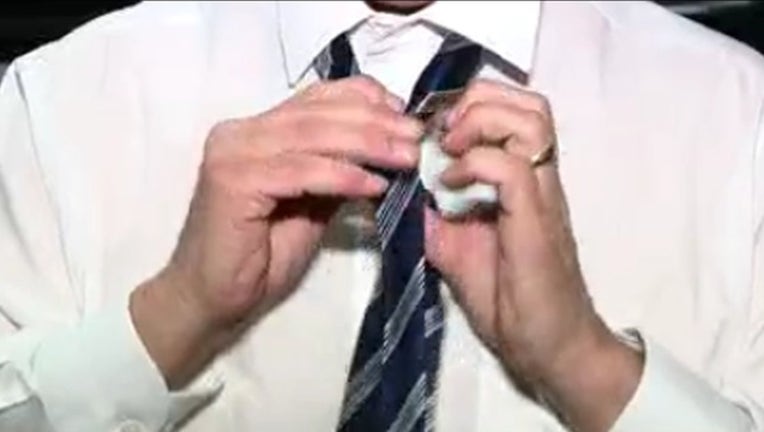 article
GAINESVILLE, Fla. (FOX 35 WOFL) - A fashion emergency led to Alachua County dispatchers helping a woman with an unusual request Saturday.
Dispatcher Cynthia Kramer says she first talked to the woman who needed someone to tie a tie for her. Hannah Mesh was also working that day – and heard the commotion about the call.
"The one who took it – she ran over and she was like, 'I know it's not something we usually do, but the woman was outside,'" Mesh said. "And so they yelled, 'Does anyone know how to tie a tie?' And I'm like, 'I do' and they were like, 'Okay, go do it!'
So Mesh went to the rescue.
"I went outside. In our facility, there's a phone you can use outside and she had walked to that phone and called in. She was holding a tie – she said, 'My son is going to a wedding and I can't tie this and he can't. Can you help me?"
Mesh says she was happy to do it. The woman's son wasn't there so she tied it around her own neck and handed it over.
"It was funny because when I was little my dad was like, 'One day this will come in handy!' And then yesterday, I was like, 'Today is the day,'" Mesh said.
A big smile, and that tie in her hand, dispatchers say after snapping a photo with the woman they didn't catch her name.
But the News Station tracked her down.
"I was very grateful! I was very thankful. She made my day. She really did. All of them made my day, they really did" said Diana Wicks.
She says someone suggested she head to the sheriff's office so a deputy could help with the tie, after realizing no one at home could do it. Of course those dispatchers ended up stepping in.
Wicks says she now plans to learn how to tie a tie.