9 victims from roller coaster crash taken to the hospital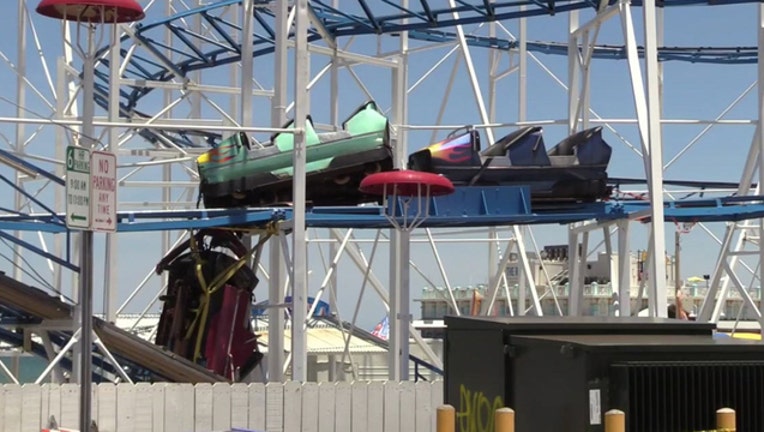 article
DAYTONA BEACH, Fla. (WOFL FOX 35) - Nine victims were taken to Halifax Medical Center in Daytona Beach after officials say the roller coaster derailed from the track. Two of the victims were trauma alerts. 
Some of the victims were on a work trip from Kentucky. 
Daytona Beach fire fighters carefully rescued riders hanging upside down on the Daytona Beach roller coaster Thursday night.
Six 911 calls came in just after 8 p.m. last night when the roller coaster derailed.
One woman said, "The rollercoaster at the Boardwalk has come off the track and we have a lady dangling."
Taxi Driver, James Nichols, was in the area while this was all going on and says it was a horrific scene.
He said, "I heard the screams, they were bloodcurdling, I knew something was serious."
"There were people screaming on the ground and hanging from the cars."
Victim, Randy France, says he and some of his co-workers from Kentucky decided to spend the evening here in Daytona Beach. They were never expecting this. Randy was one of the lucky ones, treated and released from the hospital.
A woman who fell from one of the cars has a broken collarbone and a punctured lung.  According to her sister's Facebook post she has six broken ribs, a bulging disc in her neck and jaw injuries.
Florida officials say the roller coaster passed a state inspection only hours before it derailed and sent two riders plummeting to the ground. 
 
Florida Agriculture Commissioner Adam Putnam said Friday that the Sand Blaster at the Daytona Beach Boardwalk had been seen Thursday by inspectors from the Department of Agriculture and Consumer Services.
 
Putnam's statement says the roller coaster "was found in compliance with state law." It says his agency is investigating the cause, and says "anyone who should be held accountable will be held accountable."
Officials gave an update on the situation shortly after 10 p.m. Thursday: