Driver entered wrong lane in deadly Clermont crash with 2 semi-trucks: troopers
CLERMONT, Fla. - Three people were killed in a crash after a vehicle entered the wrong lane, causing two trucks to flip over in Lake County on Friday morning, according to a new report from the Florida Highway Patrol. 
The Florida Highway Patrol said the crash happened shortly after 5:30 a.m. on State Road 33 and Bakers Lane in Clermont. Three different vehicles – a 2019 Chevrolet Silverado and two semi-trucks – were involved in the crash, according to officials. 
Fire and rescue personnel pronounced the three people dead at the scene. 
Who are the victims?
The three victims – all from Mascotte – were all riding in the Chevrolet Silverado at the time of the crash. FHP identified them as a 21-year-old female (driver), 50-year-old woman and 59-year-old man. 
No passengers were wearing a seatbelt at the time of the crash, officials said.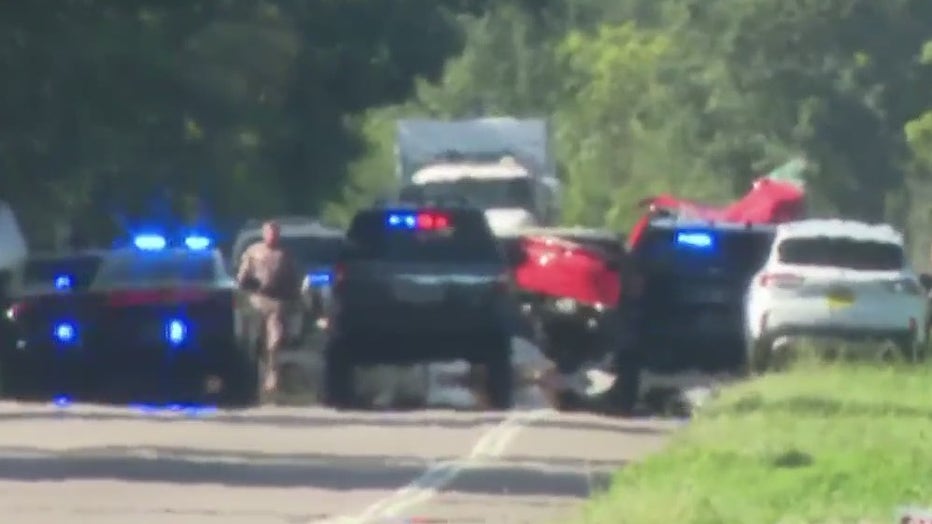 Three different vehicles were involved in a crash that left three people dead in Clermont on Friday morning. 
Deadly crash: What happened?
FHP said the crash happened at 5:37 a.m. on State Road 33 approaching Bakers Lane. 
A Chevy Silverado was traveling southbound on SR-33 while a 1999 Freightliner semi tractor trailer and 2018 Kenworth truck were traveling northbound on the same road.
For unknown reasons, the pick-up truck entered the northbound lane and collided with the front of the Freightliner, causing it to run off the road to the left and turn over onto its right side. 
The Silverado continued to travel in the northbound lane after the initial impact. That's when it collided head-on with the Kenworth truck, which veered off the road to the right. It continued to travel in a northeasterly direction, eventually colliding with trees and overturning on its right side. 
Semi-truck drivers only suffered minor injuries
The male drivers of both semi-trucks, a 53- and 57-year-old, suffered minor injuries from the crash, according to officials. They were transported to a local hospital with non-life-threatening injuries. 
The crash remains under investigation.