3 dead in suspected murder-suicide in Seminole County, sheriff's office says
WINTER PARK, Fla. - Three people were found dead late Monday inside a home in Winter Park, the result of an apparent murder-suicide, according to the Seminole County Sheriff's Office.
Deputies responded to the Howell Estates neighborhood late Monday in regard to a "shots fired" call and found three people – two men and a woman – dead inside. Authorities said one of the men and the woman appeared to have been killed, while the second man appeared to have died from a self-inflicted wound.
On Tuesday, officials identified the three people as James Calhoun, 43, Emma Cain, 49, and Shane Shearer, 48.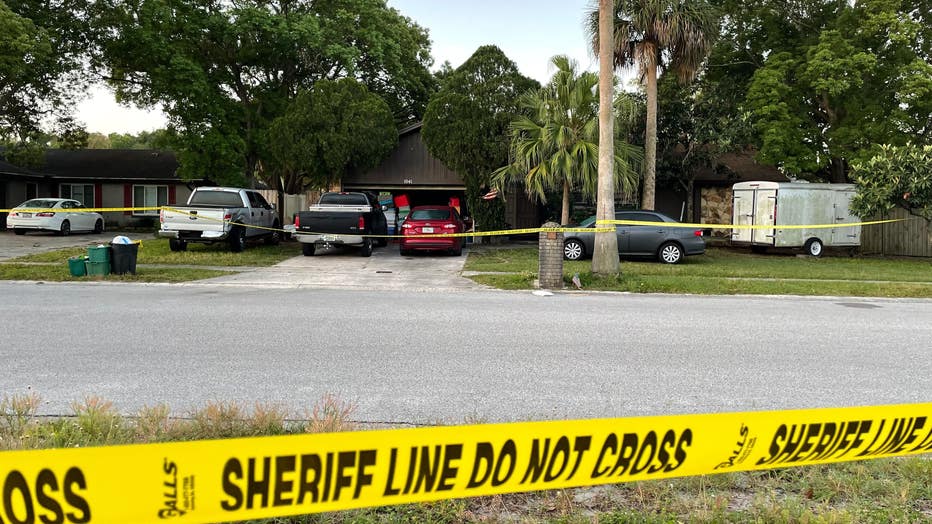 Shearer, who was described as a family friend, was staying at the house. He is alleged to have killed both Calhoun and Cain, before killing himself, according to authorities.
Also in the home at the time of the shooting was the couple's youngest son, investigators said. The 17-year-old jumped out a window and ran for help.  
"I don't know where he is. I was hoping to find him here to ask him if he needed any of our help," said Terri Riley. 
Riley was one of many concerned neighbors who gathered outside the home on Princess Gate Boulevard in Winter Park. Riley said the couple had three sons. 
"They love their family and their kids. They love their sons dearly, and they would help anybody," said Riley. 
Neighbors believe Shearer had been staying at the home for about a month. Deputies are still investigating what led up to the shooting. 
"This is the most tragic thing that's ever happened here," said Russ Patton. 
The Pattons knew their neighbors through the neighborhood yard sales that James held frequently. On Tuesday, Joyce Patton met with one of the couple's sons to lend a helping hand. 
"You can just see the stress on his face and his eyes," said Joyce. "I hugged him and he just kind of broke down and tears came to his eyes."
The Pattons said the boys have family who live nearby and an Uncle coming down from Virginia to help and support them as they try to sort through the unimaginable.
"Somebody needs to step up and make sure they get help because you don't go through something like this and certainly not expecting something like that to happen," said Joyce.