22-year-old Marion Co. deputy dies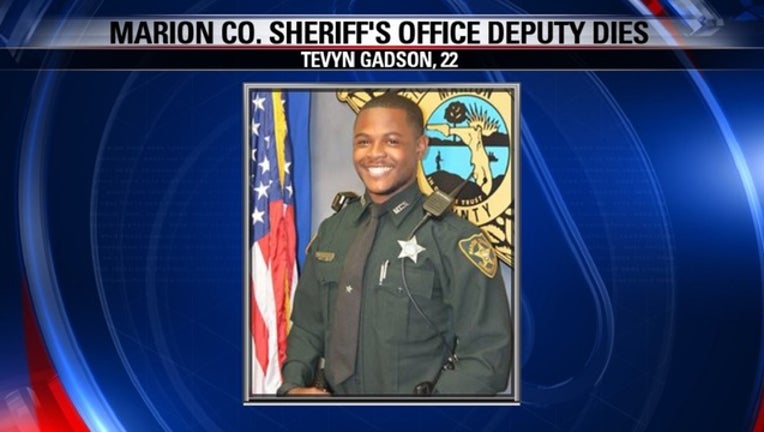 Marion County, Fla. (WOFL FOX 35) - On Sunday, the Marion County Sheriff's Office says one of their own has died

In a post on Facebook, the Sheriff's Office released this statement:

"We regret to inform you that this morning the Marion County Sheriff's Office received news of a vehicle accident that took the life of 22-year-old Tevyn Gadson. We are extremely saddened by this news, and on behalf of Sheriff Chris Blair and the men and women of the Sheriff's Office, we offer our sincere condolences to his family and loved ones during this difficult time."
Earlier this year, the Sheriff's Office praised Deputy Gadson for saving a man's life.
This was the news release sent out:
On the evening of May 31, Deputy Tevyn Gadson was dispatched to a citizen's assist call about an unresponsive 29-year-old man at 13909 SE 51st Court in Summerfield.

Deputy Gadson immediately performed CPR on the man and was able to reestablish a pulse.

The individual then began breathing, regained consciousness and was transported to the hospital by Marion County Fire Rescue, where he is currently in stable
condition and recovering well.

Sheriff Chris Blair says Deputy Gadson's quick thinking and actions surely saved a life Sunday evening.

"We are so lucky to have Deputy Gadson serving our citizens here in Marion County," said Sheriff Blair. "And we have hundreds more like Deputy Gadson patrolling our community. I'd like to extend my congratulations and a thank you to Deputy Gadson for his actions last night. We are all proud to work alongside you each and every day."