Thanksgiving desserts with Chef Andra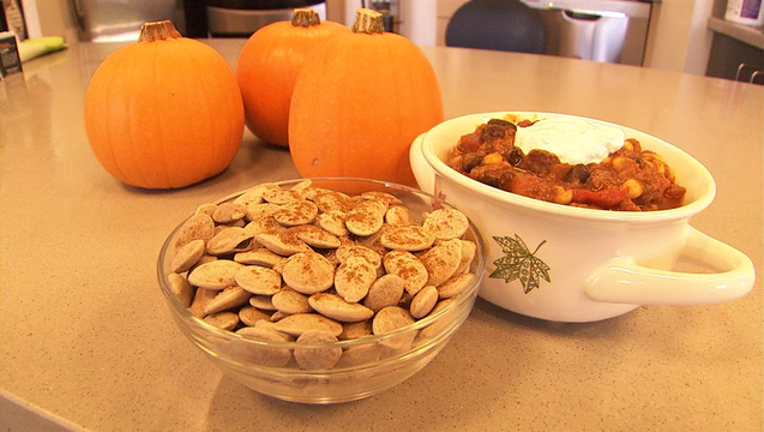 article
From Chef Andra's visit to Good Day Orlando on Thursday.
---
PUMPKIN-BROWNIE SWIRL PIE
Ingredients
1 12-ounce bag semisweet chocolate chips
2/3 cup packed light brown sugar
2 large eggs
1 teaspoon pure vanilla extract
1/2 cup all-purpose flour
2 tablespoons unsweetened cocoa powder
1/2 teaspoon baking powder
1/4 teaspoon salt
For the pumpkin filling:
1 cup pure pumpkin puree
1 cup heavy cream
1 large egg
1/4 cup granulated sugar
1/4 cup all-purpose flour
1/2 teaspoon pumpkin pie spice
1 stick of unsalted butter
---
VANILLA ICE CREAM AND CARAMEL SAUCE (for serving)
Directions
Preheat the oven to 350 degrees F. Butter the bottom and side of a 91/2-inch deep-dish pie plate. Make the brownie filling: Heat the butter, chocolate chips and brown sugar in a medium saucepan over medium heat, whisking occasionally, until the butter and chocolate is melted. Remove from the heat. Whisk in the eggs, one at a time, then the vanilla, whisking until smooth. Whisk in the flour, cocoa powder, baking powder and salt until combined. 
Pour about one-third of the brownie batter into the prepared pie plate; set aside the remaining batter. Bake until just starting to set and the top is shiny, about 20 minutes. 
Meanwhile, make the pumpkin filling: Combine the pumpkin puree, heavy cream, egg, granulated sugar, flour, pumpkin pie spice and salt in a medium bowl; whisk until smooth. 
Pour the pumpkin filling over the warm brownie layer. Stir 1-tablespoon water into the remaining brownie batter, then spoon the batter (in about 6 scoops) onto the pumpkin filling. Use the back of the spoon to pull the brownie batter into the pumpkin filling and create a swirled pattern. Bake until the pie is set, 40 to 45 minutes. Transfer to a rack and let cool completely. Serve with vanilla ice cream. 
---
APPLE PIE WITH CHEDDAR, BACON, AND ROSEMARY
Ingredients
2 pounds of Pie Dough 
Apple filling:
7 ounces Sugar
1 ½ ounce Cornstarch 
½ teaspoon salt
½ teaspoon ground Nutmeg
1 teaspoon Ground Cinnamon 
½ teaspoon Lemon Juice
1 ounce Butter, melted
5 slices of Applewood Smoked Bacon
1 Tablespoon of Rosemary 
1 cup of Sharp Cheddar 
5 Golden Delicious Apples, peeled, cored, and sliced 1/8" thick
Egg wash
Directions
Divide dough in half, roll out for bottom and top layer to 1/8" thick
Combine sugar, cornstarch, salt, nutmeg, cinnamon, lemon juice, and melted butter and toss with the apples, bacon, cheddar, and rosemary.
Fill the pie shell with the apple mixture and brush the rim with egg wash
Cover with top layer of dough, crimp the edges and cut a few vents, and egg wash. 
Bake at 375F until filling is bubbling and the crust is a rich golden brown color, about 45 minutes.