Orlando Weather Forecast: Heavy rain, lightning storms likely Sunday
Tonight's forecast low: 76 degrees
Tomorrow's forecast high: 91 degrees
MAIN WEATHER CONCERNS
More showers and thunderstorms will move through Lake County and stay to the West of Orange throughout the night. These showers and thunderstorms will clear out by the early evening. Storms over the Atlantic will push onto the coast throughout the evening. Main threats will be lightning, localized flooding, and gusty winds.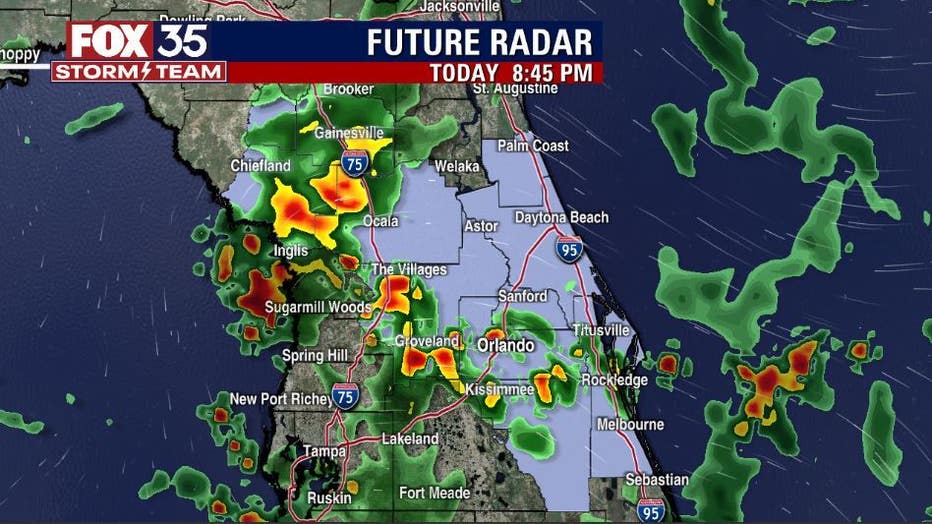 BEACHES
Showers hold off along the coast until around 3 pm for Monday. Temperatures will reach the upper 80s along the beaches. The rip current risk will be moderate with the surf being around 2 ft. Make sure to swim next to a lifeguard stand and apply sunscreen!
THEME PARKS
Another stormy day Monday. Rain chances start in the early afternoon around 12 pm. Thunderstorm chances increase throughout the afternoon. Rain can be very heavy at times causing localized flooding. Highs will reach the low 90s.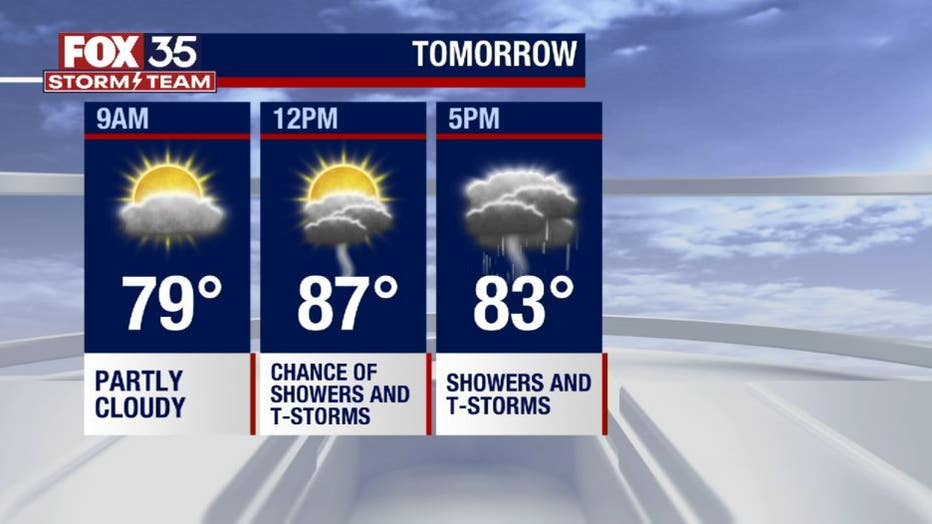 EXTENDED OUTLOOK
Scattered showers and thunderstorms will continue throughout the night. Rain chances will be high Monday and Tuesday. Tropical moisture is moving into the area, firing up storms each afternoon. The forecast will be much more of the same with low chances of rain along the coast as the sea breeze fires up in the midafternoon. Temperatures will be near normal with highs in the mid to low 90s. Depend on the FOX 35 Storm Team and download the FOX 35 Storm Team App!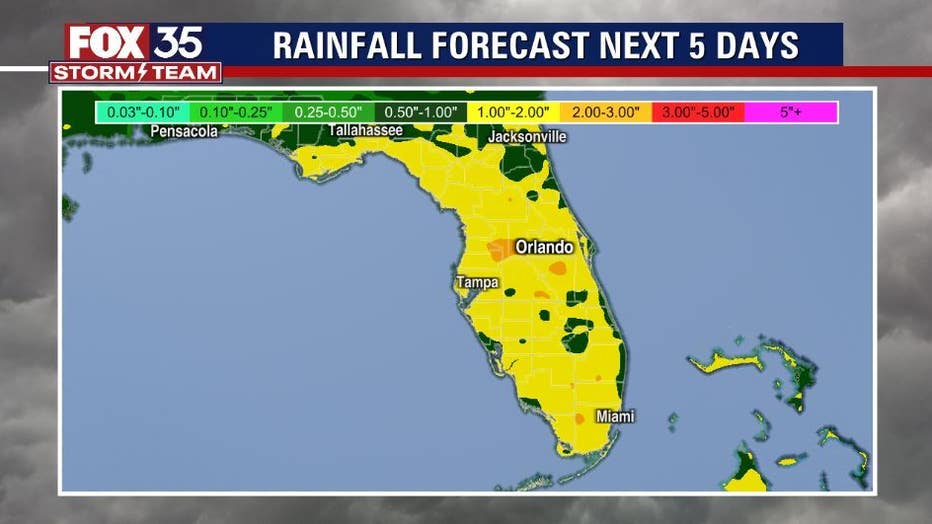 TROPICS
We are watching four disturbances in the Atlantic. Three of them have a 20% chance of development. An area of low pressure over eastern portions of the Caribbean is producing little showers and thunderstorm activity, but environmental conditions are favorable for slow development. This area still has 20% chance of development within the next 5 days. An area of disorganized showers and thunderstorms associated with a broad area of low pressure in the Eastern Atlantic has a 70% chance of development within the next 5 days. Environmental conditions are favorable for slow development midweek.  Depend on Us, the FOX 35 Storm Team for the latest!