Governor Scott declares State of Emergency in Panhandle as Tropical Storm Michael forms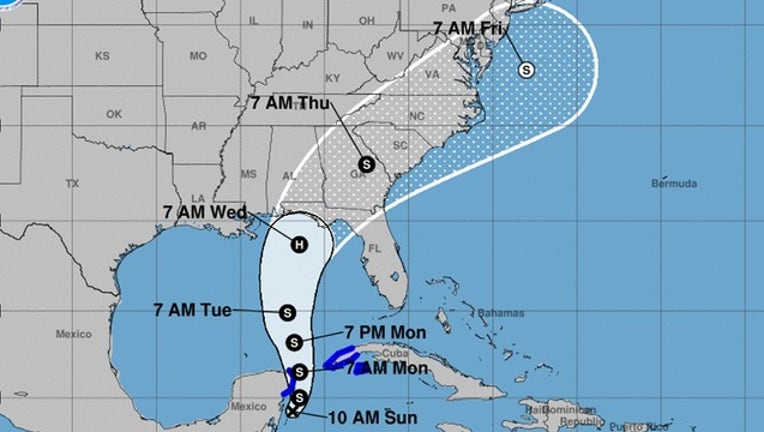 TALLAHASSEE, Fla. (FOX 35 WOFL) - Florida Governor Rick Scott announced on Sunday that he is issuing a state of emergency for the counties in the Florida Panhandle and Big Bend, as the state continues to monitor and prepare for Tropical Storm Michael. 
With a state of emergency declared, Governor Rick Scott can ensure that state and local government has ample time, resources, and flexibility to get prepared for this storm.
Governor Scott will reportedly be traveling to Tallahassee on Sunday to receive a briefing from federal, state and local emergency management officials at the State Emergency Operation Center at 5:00 p.m.
The National Hurricane Center (NHC) said in their latest advisory that Tropical Storm Michael is expected to strengthen into a hurricane before making landfall in the western Florida Panhandle on Wednesday, October 10th.  
Tropical Storm Michael is currently said to be located about 90 miles south of Cozumel, Mexico and 225 miles southwest of the western tip of Cuba. Michael is currently stationary but is expected to resume a slow northward motion later on Sunday. An increase in speed is expected over the next few days. Maximum sustained winds are currently at 40 miles per hour. Strengthening is forecasted during the next several days and the system could be a hurricane by Tuesday night or Wednesday.
The NHC says that heavy rains are expected to spread over Western Cuba on Sunday. A Tropical Storm Warning has been issued for The Cuban provinces of Pinar del Rio and the Isle of Youth, as well as the coast of Mexico from Tulum to Cabo Catoche. 
Be sure to keep up with the latest on the 2018 Hurricane Season HERE. And you can download your Hurricane Guide in English HERE or in Spanish HERE.