Orlando weather: Cold front to drop temperatures to the 60s in Florida
ORLANDO, Fla. - Just in time for the start of the fall – the autumnal equinox is Saturday – a cold front is headed toward Florida and will drop temperatures – wait, just wait – into the 60s for a couple of days.
It won't be iguana-falling cold weather – yes, that happened in Southern Florida. However, parts of Central Florida, including around Orlando, will see temperatures in the upper 60s during sunrise and sunset.
During the day, highs in the mid-to-upper 80s through the weekend and into early next week. There will also be a gentle northwest breeze, according to FOX 35 meteorologist Brooks Garner. 
What's causing the cold front in Florida?
This cold front is bringing in the driest air of the season thanks to a subtropical system forming off the coast of Florida, putting an end to the thick humidity that's plagued Central Florida this summer, Garner said. 
"Unfortunately, all good things must come to an end, and by early next week, the humidity bottled up in South Florida will surge northward, leading to a muggier and rainier week ahead," he said.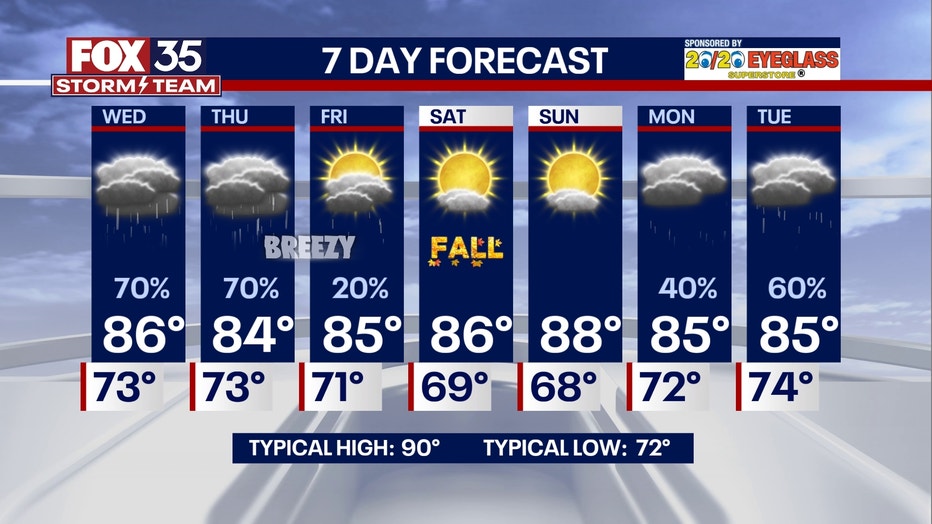 When does Daylight Saving Time end?
Mark 2 a.m. on Sunday, Nov. 5. That's when we fall back and have to push the clocks back an hour.
"This period marks the time when the northern and southern hemispheres of the earth receive equal amounts of sunlight during the day," Garner said. "After this point, the days will gradually get shorter until we reach the shortest day of the year on December 21, known as the Winter Solstice."