2026 World Cup host cities: Orlando loses bid as 15 others make the cut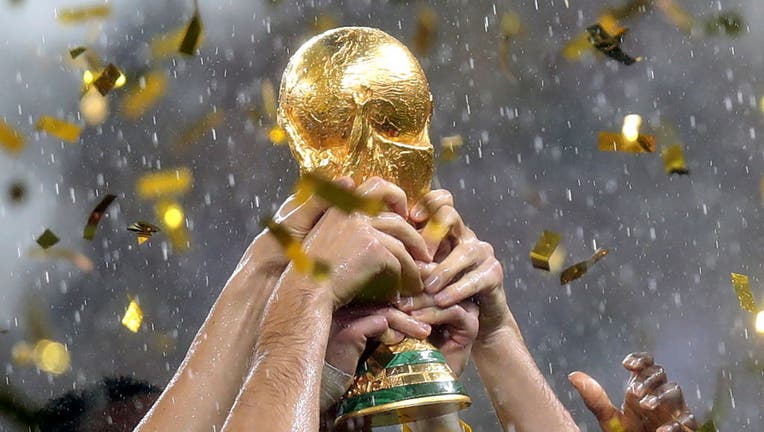 article
ORLANDO, Fla. - FIFA has chosen the host cities for the 2026 World Cup and Orlando was not among those selected. The announcement was made from New York on Thursday afternoon.

Despite years of hard work to lure the World Cup back to the City Beautiful, Orlando was passed over for the 2026 tournament. Had Orlando been picked, the matches would have been played at Camping World Stadium and the economic impact could have been in the hundreds of millions of dollars for Central Florida, tourism officials said. Orlando last hosted World Cup matches in 1994.
The city has made a substantial investment in the renovation of Camping World Stadium in hopes of luring big sporting and entertainment events. The city has also developed a huge fan base for the Orlando City Soccer Club showing that the region is big on soccer. 
"Orlando has already established itself as one of the premier sports destinations in North America and enhancing Camping World Stadium only adds to our ability to host premier events," said Orlando Mayor Buddy Dyer. "I am proud that we've achieved exceptional value throughout the entire reconstruction. Our strategy continues to be validated by the lineup of marquee sporting events that are being scheduled for the months and years ahead as Orlando thrives as the Soccer Capital of the South."
World Cup fans in Central Florida will not have to travel far to enjoy matches as both Atlanta and Miami made the cut. 
WHAT NORTH AMERICAN CITIES ARE HOSTING THE 2026 WORLD CUP?
WEST REGION
Vancouver (B.C. Place Stadium)
Seattle (Lumen Field)
San Francisco/Bay Area (Levi's Stadium)
Los Angeles (SoFi Stadium)
Guadalajara, Mexico (Estadio Akron)
CENTRAL REGION
Dallas (AT&T Stadium)
Atlanta (Mercedes-Benz Stadium)
Houston (NRG Stadium)
Monterrey (Estadio BBVA Bancomer)
Mexico City (Estadio Azteca)
EAST REGION
Toronto (BMO Field)
Boston (Gillette Stadium)
Philadelphia (Lincoln Financial Field)
Miami (Hard Rock Stadium)
New York/New Jersey (MetLife Stadium)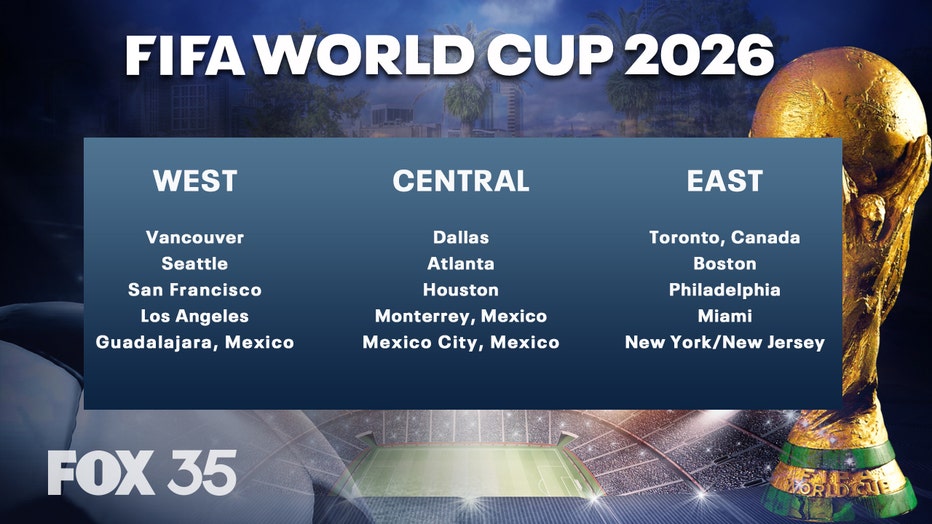 New stadiums were selected in five areas used in 1994. AT&T Stadium in Texas replaced Dallas' Cotton Bowl; SoFi Stadium in Inglewood took over for Pasadena's Rose Bowl; and Levi's Stadium instead of Stanford Stadium.
Met Life Stadium in East Rutherford, New Jersey, and Gillette Stadium in Foxborough, Masschusetts, replaced torn-down stadiums that were adjacent, Giants Stadium and Foxboro Stadium.
Orlando's Camping World was dropped among existing 1994 venues. The Detroit area, where the old Pontiac Silverdome hosted games, was cut in 2018 and Baltimore's M&T Bank Stadium was dropped after FedEx Field in Landover, Maryland, dropped out. Washington's RFK Stadium was used in 1994.
Chicago, which hosted the 1994 opener at Solider Field, refused to bid, citing FIFA's economic demands.
Mexico City's Estadio Azteca, which hosted the 1970 and '86 finals and will become the first stadium in three World Cups, was selected along with Guadalajara's Estadio Akron and Monterrey's Estadio BBVA.
Toronto's BMO Field and Vancouver, British Columbia's B.C. Place were picked while Edmonton, Alberta's Commonwealth Stadium was dropped.
The bid plan envisioned 60 games in the U.S., including all from the quarterfinals on, and 10 each in Mexico and Canada.
Specific sites for each round will be announced later.