Smart: UGA must play "our best football" against Florida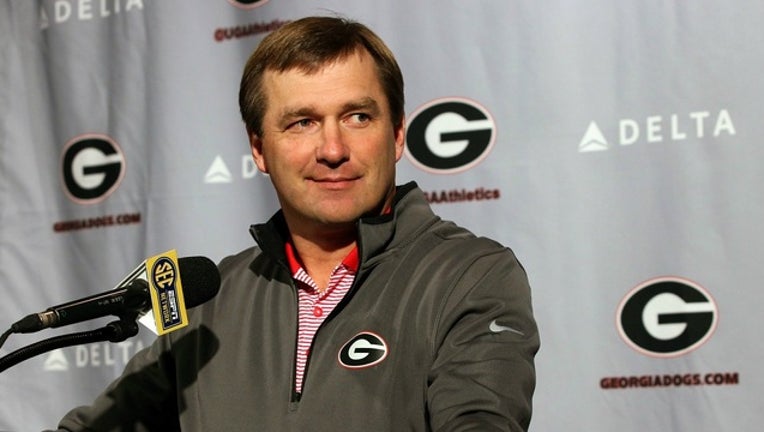 article
ATHENS, Ga. - Georgia head football coach Kirby Smart told reporters Monday that his team must play its best football in order to beat Florida this Saturday.
Smart, along with several players, addressed media on Monday ahead of Saturday's matchup against Florida in Jacksonville. They offered the following comments:
Head Coach Kirby Smart
Opening statement … 
"I'd like to start with congratulations to both Scott Woerner and Marcus Stroud, former teammate of mine, on being inducted into the Georgia-Florida Hall of Fame this Friday. What a great honor, what a great game and great rivalry, and they get to be a part of it for history. And then also congrats to Verne Lundquist, who is also going to be inducted.
So with that, onto Florida. I have a lot of respect for Coach (Jim) McElwain, who I worked with for several years; offensive coordinator Coach (Doug) Nussmeier; Geoff Collins, defensive coordinator;  and (defensive line coach) Chris Rumph. They have a really good staff. They've got a very good football team that they have put together, and they're playing at a high level. Those guys play really hard, got one of the best defenses in the country. They have electric returners in special teams. They've got some great receivers. As you well know, their quarterback, Luke Del Rio, was with us at Alabama for a while, and he is also a ferocious competitor that I have a lot of respect for. So they've got a good program, good team, and we're excited for an opportunity to go down to Jacksonville and play them in what I think is one of the best neutral-site games there is in all of college football. I think when you get recruited to go to Georgia and Florida, that's a game that you always point to you want to play in. I know historically I was that way as a player. But I know our players are that way. It's considered to them one of the biggest games we have each year, especially because of where it's played."
On the 1997 Georgia vs. Florida game and the importance of this week's contest … 
"This game's a lot more important to me now than it was back then. Obviously, the ramifications are different and things are a little different. Nobody expected or gave us a chance in that game. I think we were -- I don't know what we were underdog wise, but we were able to run the ball, control the line of scrimmage; and they had some turnovers and it opened some things up. I think they also had some injuries that day. They had some guys beat up, and Robert (Edwards) and those guys ran the ball well.
I think this year is a little different scenario. I think these two teams are a little closer in comparison probably than those were. I think we've gotta play our best football, and we have yet to do that all year. And I think the rivalry has just grown, especially as there's been a little more parity and a little more back and forth. It was definitely one-sided, like you mentioned. I guess it was seven in a row. So it was a lot bigger deal to beat them that year, but the rivalry has been a little more balanced, and that's what rivalries are supposed to be."
On freshmen playing key roles in this week's game and how the crowd affects them… 
"Yeah, I don't think that -- we don't concern ourselves with what's outside. We gotta concern ourselves with blocking, tackling, running fast, being smart, making good decisions, not having undisciplined penalties. It really has nothing to do with the crowd being 50-50 or 60-40. We had a neutral-site game in North Carolina, and you could argue that it was a lot more partisan to us, a lot more fans for us. But we've played in a neutral-site type environments, so it's not a lot of change for them. I think the biggest change is we're playing a really good component, so we have to play good."
On how he judges rivalry games and if this one carries any more significance compared to other games … 
"Absolutely not. We've said before, there's five states contiguous with Georgia, so they're all huge rivalries, and to say that one is more important than the other, I think that's unfair. I think when you say SEC East, you've have to rank those opponents first because in order to advance you've have to beat those teams. So those would be all 1As. Then you cross over to the West and it makes it a little different. This game is big and they're all big. Not to say that one is bigger than the other."
On if Tae Crowder will stay with the inside linebackers … 
"Yeah. Tae will stay there. Tae has just got great size and he's a good athlete. So he's going to continue to work there, and whether or not we can factor him in this year, that depends on how fast he learns. He'll continue to work there, and we're still making a decision on the other two. Tae is the only one that we know for sure on. (Michael) Barnett may or may not. Just depends on our depth on the D line."
On Georgia's potential and what Georgia's best game looks like …
"I hope to see that Saturday. I want to play our best game in all facets of the game, being able to be balanced on offense and being able to control the line on scrimmage on defense and play well in the kicking game. That's the part that we've gotta be able to do all three, and some of them have hit on all cylinders at all different times. We need them to hit all the same time, especially when you're playing a defense of this caliber in them."
On Deandre Baker's health status … 
"The only update we've got is he came back from the weekend and has gotten treatment over the weekend. We'll find out a lot more today. Other than he could jog lightly on Thursday. So we're talking about three days of recovery. We're expecting him to go out there and do as much as he can. What that'll be, I'll find out today."
On Florida defensive coordinator Geoff Collins … 
"They play really hard. I mean I think that he does a great job of selling his players on playing hard. He motivates well. Not a guy that does a ton of scheme stuff. He does what he does. He's got good players, and he gets them to play hard, which is a credit not only to him but to his whole defensive staff. He was that way at Mississippi State and he's been that way at Florida."
On Georgia's offensive identity vs. Florida … 
"Yeah, I think you have to start with balance. I think that every defense is going to take away what you do best. So you can't let them do that. You've gotta be able to make some plays. I mean they're good in the pass defense because they've got really good DBs. They've got two corners that you could argue are probably the best hands in the country. They get out there and press you, get their hands on you. Not a lot of elaborate schemes; they just go out there and cover you and whip you up front physically, and they've got good players doing it. So it's a credit to those guys. I think for us we've gotta be able to hit some plays in it, which a lot of teams haven't been able to do, and we gotta be able to run the ball, because if you can run the ball, then you can create situations where they have to put extra guys in the box. But it's no different than any game, blocking, tackling, breaking tackles. We're going to have some one-on-one tackles. Can our backs beat their one-on-one tackles, and that's really what it boils down for our offense against their defense. It'll be interesting to see how they play us in some personnel groupings. Be interesting to see how they play us outside; do they have respect for our receivers. I don't know. They don't usually -- they just let their guys go play on an island, and we'll see if we can continue to do that."
On what the team accomplished during the bye week … 
"I'll answer that question Saturday, because I certainly think we worked towards it. I thought that we got to attack some areas that we needed, and I really thought the kids had good energy and attitude to go out and practice the way they did, physical, hitting each other, with toughness. That's a thanks a lot to leadership of the team to making the guys do that, because when they sell it, the other guys buy into it. So, I do think that a lot of teams deteriorate as the year goes on from a tackling standpoint; they hit less, they tackle less, they get beat up, and you see it showing up on these Saturday games with missed tackles. That's an Achilles heel of ours. We can't have missed tackles. We gotta tackle well, so we worked hard on that and the kicking game."
On Natrez Patrick and Roquan Smith … 
"I'll start with the first. You got the statements from Roquan and Natrez and from the university. We brought the matter to a conclusion today, and I'm happy for these two young men, they get to move on to football and not have to deal with the distraction. I will say that on the field both of these two young men have been exemplary leaders, especially for sophomores. I think I've mentioned before that Natrez and Roquan have just started to kind of be vocal maybe since the Ole Miss game, which is tough when you're a sophomore because you're in the bottom half of the leadership, you know, and those kids have done that and they've done a good job of being leaders.
I'm a team player when it comes to policy, and I believe in doing what the team theme is, which is what our athletic association has been so far. Do I think that we live in a society that's a little bit different now than it was back whenever? Sure, I do. But I also believe in what we have, and we know and accept the rules that we've been charged with."
On his familiarity with Florida head coach Jim McElwain … 
"I don't know that it does provide advantage, because for every advantage I might have, they have the same. I think you can overthink these things. It's getting to be a recurring theme because you know (Will) Muschamp, you know the same deal there, you know this guy, you worked with him before. I just don't think there's advantages when it comes to that. I think the biggest deal is your coached players against his coached players, and you try to put them in the best chance to be successful.
They do a lot offensively. They do a great job of motioning, shifting you, trying to confuse you. We played them last year at Alabama. So when you look at it, they did a lot of the similar things, shifting motion, trying to confuse people with eye candy. I think that's what Nuss and McElwain have always done. The biggest difference is they've got a big physical O-Line and they've got backs now that are running the ball better. They have four backs that are really running the ball well to create balance, and they've got the young wideouts out there playing really well, too. I think Luke Del Rio throw a great deep ball, and they've done a great job with their offense. So I don't put an advantage to anybody because we both kind of know each other. We know what we do, and the players have to go make the plays."
On if any players or units stuck out on special teams during the bye week … 
"I wouldn't say one that's stood out. We worked hard on kickoff coverage and punt coverage. They've got a great punt returner who does a great job of being a dynamic threat. And also same on kickoff return for them. So we worked on both those units a lot, and we've tried a lot of different people in different places, trying to shake things up and get some good competition going there. So we'll see on Saturday if it pays off."
On Florida's Jarrad Davis and Alex Anzalone … 
"It's been a very dynamic defense. I think with the combination of Jarrad and Alex, it's more physical up front. They've been able to control the run game. They did that in the past with their secondary because their secondary was so good, but now they've been able to play some non eight-man fronts. They've been able to play some more coverages and still stop the run with those two backers in there. Jarrad Davis has been a good player in this league for a long time, seems like he's been there forever. He's been a great special teams player. And Anzalone coming back has made them better, too. So they got some really good players up front."
On defensive coordinator Mel Tucker … 
"I don't get into evaluations in mid-season. I don't think that's as critical right now. I think the most important thing is our preparation, and that's what I'm evaluating is are we preparing properly, are we getting the right reps, are we looking at the right things that they're doing, seeing the right percentages of their personnel groupings. I think that's the most important part."
On any tangible evidence that the defense has improved … 
"I think it's always hard to gauge. I think when you base things on stats, that's what can mislead you. I think it's a tough thing to gauge. I think you have to substantiate it some kind of way, and we've tried to do that through less missed tackles. We've also had less plays. We didn't have many plays against Vanderbilt. So less plays should have less missed tackles, less opportunities to tackle. So we try to look at it from a statistical standpoint, but at the end of the day it comes with practice, and you have to go by practice. And I feel like because you see practice every day, those defensive players have improved. They've definitely improved on their execution. Some of that could be about we're seeing less stuff. But at the end of the day we've tried to simplify and play fast and get guys to play the right way. The numbers have shown that that's been a help, but we've also probably played guys that were not as good offensively."
On Rodrigo Blankenship … 
"Yeah, you know, he looked better the week of that (Vanderbilt) game. We felt good going into practices that week that he had improved. He's still gotta improve on his kickoff consistency, and that's very integral to our success is the hang time that he gets and not hitting flat kicks and putting them in the right spot. But he's consistently done that. He did a nice job last week, and I think he's starting to gain some confidence in that area. We certainly need for him to."
On Georgia's 2013 signing class and how they affected this year's team … 
"I mean everybody wants a senior-laden team, but when you look across college football now, there's not a lot of teams that have a lot of seniors. Traditionally that's the team that has 25 seniors, they got a pretty good football team because they've been in the program for a long time. And when we have team meetings in here, I think we got 11 guys across the front row that are seniors. So I think that it's important to any program to, A, get the right kind of people in your program, develop those people and then have those people graduate so you keep as much of your classes as you can. But it's pretty common across college football to have some smaller senior classes because so many guys are finding ways out, finding ways to leave, transfer and that kind of thing. But when you build a good program, you want to have senior classes of 15 to 20 each time."
On the shift in college football offensive philosophy and how it affects Georgia's offense … 
"I think the word I've used is balance, and balance is not necessarily — I think people might mistake that for I (formation), but we really haven't been in the I much this year. I think we've been in the motion shift, motion team. We have been diversified in our personnel groupings because we have some personnel groupings that make us better week to week.
Balance to me is a run-pass balance. It's not necessarily whether you're spread or not. We've shown those looks because we think there are some advantage to those looks based on who you play. We've been in the RPO world this year and done more of those than probably people even know we've done. There's been a lot of them done in tags. So it's becoming more of what we do, but it's not going to be our sole identity. You gotta be able to run the ball out of both looks.
The runs we run out of two-backs or second runs we run out of one-back, so it's not like it's a difference. It's just hoping to get less guys in the box, and I think each game that varies based on who we play. Can they handle more guys in the box or can they not handle more guys in the box? Some people haven't been able to handle that and others have handled it well. So a little bit of it is what we're able to do and being able to focus on that end game so we can be successful, because when you struggle with one of the games, you gotta have the other. That's why you gotta be diversified. And pretty much every team we've played, they've had two personnel groupings. I'm talking about offenses we play. They got this group and they got this group, and they do whichever one they think works best."
On the importance of senior leadership against Florida … 
"I think anytime you've got a rivalry game you look to your leadership, and obviously our seniors are leaders of this team by nature. We've got some younger guys that are leaders. We've got some juniors that are leaders, but the senior group is the only group that has, and they are our leaders, but we're not calling on them to speak up and talk about it. The biggest thing is what do we have to do to play well? That's our sole focus is what do I have to do to play my best game, and that's have a great week of preparation. And that's what we're aiming to today is have a great week of preparation. I think those seniors can set an example by how they practice, and we encourage them to do that."
On any opportunity to host recruits in Jacksonville … 
"Yeah. We're not allowed to host recruits on any -- when you say host, we can't treat them to anything on this neutral-site game. There are some games that you provide tickets, but you can't do any recruiting at a neutral-site game. So we can provide tickets, but we don't do that currently at this game."
——
Senior OG #73 Greg Pyke
On this week's game against Florida…
"This is a big week, coming off the bye-week to get everyone healthy…We haven't beat them in a couple of years, but as a senior you want go out on a good note and win that game.  There's no better feeling than coming over that bridge and seeing all of the fans tailgating. That's when you know you have a big game to play and get the goosebumps. These are the games you come to Georgia to play for, Georgia-Florida."
On realizing the significance of the rivalry…
"The first time I played in it as a red-shirt sophomore, I knew that we do not like Tech, but the Georgia-Florida is a big one.  It's always a chippy and physical game. Both teams have things to prove, that they are one of the better teams in the conference. I look forward to practicing hard this week, just like every other week, but maybe a little more in preparation for this game and to be ready for Saturday." 
On the bye-week…
"During the off week, we worked on getting better.  We had guys that were banged up, so we wanted to get them healthy.  We didn't shy away from pads at all or hitting, but we got a lot better over the bye-week and then it was nice to relax over the weekend."
——
Senior FS #20 Quincy Mauger
On the defensive coaching staff…
"Coach Tucker is a great coach, a great student and teacher of the game.  He's been through all levels of the game and has a lot to teach.  It's all about us being very coachable and learning as much as we can. Coach Smart is very energetic and he's a great coach. I love his coaching style. He's a great teacher of the game as well."
On Florida's quarterback Luke Del Rio…
"He's a great quarterback and makes the plays that any other quarterback can make.  We have to be very disciplined, read our keys, stay in our gaps, and try to affect the quarterback as much as we can."
On the timing of the bye week…
"I love the game so much that I hate to spend any time away from it. Any bye-week is much needed, especially with the game that we play, it's a very physical game. It asks for a lot from our bodies, so it's a great chance for us to try to recover and get back close to 100% and then give it our all for the rest of the season." 
On moving forward with the rest of the season…
"Our mindset is paying Georgia football. We don't look at the scoreboard or our record.  We continue to play very physical, very tough Georgia football.  At the end of the day, it's a game that we love to play, so it doesn't matter what our record says."
——
Junior OLB #17 Davin Bellamy
On improvement of defense…
"I definitely think we have improved. Coming in this year, we knew we had a young defense. We weren't going to make that an excuse. We knew there were going to be some learning curves and, with the new coaches, we had to just get familiar with everybody that it would be a process. We were saying yesterday in our team meeting that we still have a long way to go but there is definitely some improvement."
On what makes the Georgia vs. Florida game special…
 "It is a game you grow up watching. I definitely grew up watching it and always wanted to play in it. It is one of the best rivalries, if not the biggest, in the SEC. It is a game that we must have and really is just a blessing to be a part of. I'm 1-2 in Jacksonville so I definitely want to do something about that. It is a fun game to play in."
——
Junior WR #16 Isaiah McKenzie   
On perception of Georgia if they win this game…
"If we were to win this game. It just shows that we have a good team. And we are capable of playing with anybody in the SEC. It's just, sometimes you come up short. You come up one-yard or on a hail mary or anything of that nature really hurts the team. But working on this week and worrying on beating Florida is what we are focused on."
On Florida's defense…
"We look at the film and it shows that they have a great defense. They have great defensive backs and great linebackers. Everything they do. They are just a good team and a good unit. We have to prepare hard and play hard to win this game."