Milton shines, No. 11 UCF routs No. 19 Cincinnati 38-13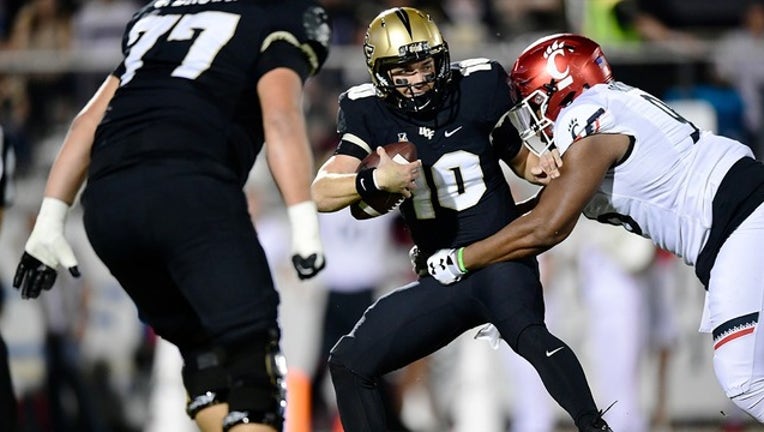 article
ORLANDO, Fla. (AP) - The college football spotlight isn't too bright for UCF.
The 11th-ranked Knights feel they are one of the best teams in the country and welcome any opportunity to strut to their stuff on a grand stage.
McKenzie Milton threw for 268 yards and accounted for four touchdowns Saturday night, helping the defending American Athletic Conference champions remain unbeaten and extend the nation's longest winning streak to 23 games with a 38-13 rout of No. 19 Cincinnati.
They did it in a nationally televised, prime-time matchup that capped a day in which Orlando became the epicenter of college football, with ESPN's "College GameDay" broadcasting from the UCF campus for the first time and giving the Knights the type of national exposure they've craved for much of their winning streak.
"It's been a long time coming, a game of this magnitude," Milton said.
"The whole weekend was a great opportunity for us to introduce ourselves," coach Josh Heupel added. "I think it's the first chance some people have had to see our university, see the great players we have, the passion of our fans and the atmosphere in our stadium. ... I hope they like what they saw."
Milton passed for three TDs without an interception and scored on a 3-yard run as the Knights (10-0, 7-0) clinched the AAC East Division title and a spot in the league's championship game for the second straight year.
The junior from Kapolei, Hawaii, rebounded from losing a fumble Cincinnati recovered in the end zone for a touchdown on UCF's first offensive play to complete 13 of 25 passes, including TDs of 17 yards and 42 yards to Adrian Killins and 36 yards to Tre Nixon.
Malik Clements' goal-line sack and Kimoni Fitz's fumble recovery gave the Bearcats (9-2, 5-2) the early lead, but Cincinnati didn't get in the end zone offensively until Tavion Thomas scored on a 1-yard run nearly six minutes into the fourth quarter.
"That was a tough one," Cincinnati coach Luke Fickell said. "The things that we pride ourselves on the entire year, in terms of playing complementary football, didn't happen tonight. There's not one finger to point. We have to play well in all three phases, and we didn't play well enough in any of the three phases tonight."
The first sign it might not be Cincinnati's night came when Cole Smith the missed the extra point after Fitz's TD.
Even though the Bearcats eventually finished with 379 yards total offense to UCF's 402, the team's struggles were compounded when Smith missed a 38-yard field goal and then had 41-yarder blocked and returned 53 yards to set up the first of Milton's two TD passes to Killins.
The Bearcats also wasted an opportunity to trim a 21-6 deficit when UCF's Titus Davis sacked Desmond Ridder, forcing a fumble after Cincinnati drove inside the Knights 20 in the final minute of the opening half.
"We generated some momentum early in the game and gave it right back to them, whether it was a missed field goal or extra point or something like that," Fickell said. "When you're playing the champs, when you're playing a team as good as they are, you can't have mishaps like that."
TITLE GAME
UCF will host the AAC championship game on Dec. 1.
LOTS OF YARDS, LITTLE SCORING
The Bearcats moved the ball better than the lopsided result suggests, finishing with 252 yards rushing.
Ridder completed 11 of 26 passes for 127 yards and no interceptions.
A week after rushing for 151 yards and scoring four TDs, including one receiving, Michael Warren II was limited to 81 yards on 18 attempts. And for only the second time this season, he failed to score a touchdown. Thomas had 79 yards rushing on 12 carries and Ridder added 70 yards rushing on 20 attempts.
THE TAKEAWAY
Cincinnati: The Bearcats are back in the national spotlight after only winning four games a year ago in their first season under Fickell. They were beaten soundly Saturday night. Still, the future appears bright, considering they have an underclassman-laden roster that includes 35 true freshmen.
"We've still got a ways to go. I felt it tonight," Fickell said. "I'm not saying we couldn't win but I still believe we've got a ways to go. I'm not going to lie to my guys. I want them to know that this is what we're going to shoot for."
UCF: Milton has thrown for at least one touchdown in 23 consecutive games. The Knights have also scored at least 30 points in every game throughout their school- and conference-record winning streak. They'll go for their second straight undefeated regular season next week against intrastate rival South Florida.
POLL IMPLICATIONS
UCF remained one of four unbeaten teams in the Football Bowl Subdivision, along with Alabama, Clemson and Notre Dame, but needed lots of outside help that didn't materialize Saturday to climb much higher than their current spot at No. 11. The Knights were 11th in the latest College Football Playoff rankings. Winning will keep them in the conversation for the CFP, however it won't silence critics who say they are undeserving of a berth because of the strength of their schedule.
Once again, Heupel defended the quality of the conference, adding that Cincinnati is a "really good" team that could go into any league and play "championship-caliber football."
UP NEXT
Cincinnati: Home vs. East Carolina on Friday.
UCF: At South Florida on Friday.
___
More AP college football: https://apnews.com/Collegefootball and https://twitter.com/AP_Top25