Haley Carter calls on experience as Marine in leadership role with Orlando Pride
ORLANDO, Fla. - Orlando Pride General Manager Haley Carter knows the checkered history of the franchise, and she's made changing some of the cultures immediately important.
"One of my biggest priorities as G.M. is ensuring that we're developing athletes not just as players, but also as people," said Carter. "And creating an environment where people love to come to work."
Carter's history as a player in the National Women's Soccer League (NWSL) does help guide the way she's running this team.
"I would be lying if I said that those experiences don't shape how I make decisions today," said Carter, "and how I approach various issues that should arise with players. I think understanding the plight of the player from the very beginning makes a difference."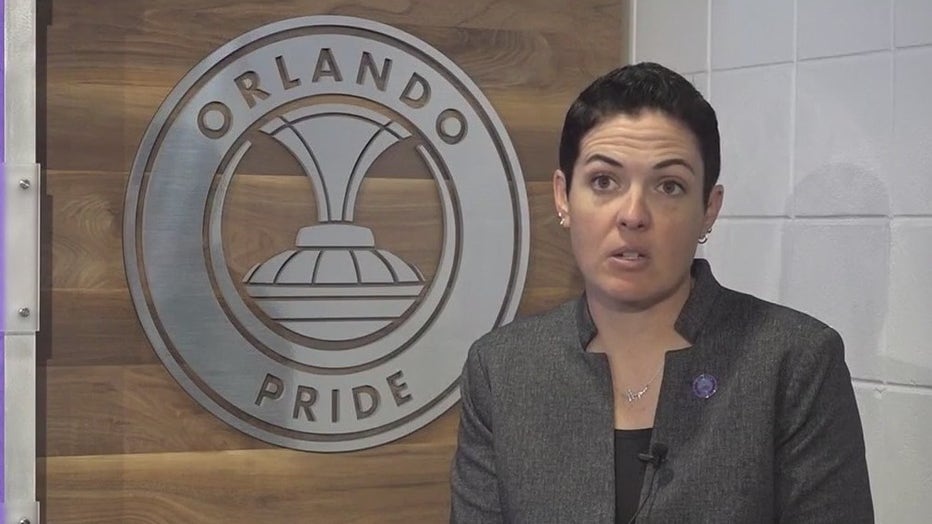 Same for Carter's history of being in high-stress, tough spots while serving as a Marine overseas.
"I'm not afraid to make hard decisions," said Carter. "I'm not afraid to make decisions with eighty percent of the information that's available. I have a saying around here that slow is smooth and smooth is fast. And that's very much a Marine Corps saying."
RELATED: Orlando flag football league shooting for Guinness Book of World Records
That Marine background helped Carter big time in one of the toughest stretches of her life.  After coaching the Afghanistan Women's National Soccer team, she essentially became a logistical coordinator in getting those women out of the country after the U.S. left Kabul.
"I was actually going into [Microsoft] Paint, and Google Earth and creating overlays of where Taliban checkpoints were so that I could then relay that to our athletes who were on the ground trying to get into the airport," said Carter. "So they could navigate around those. You know they had my phone numbers written on their arms in case somebody took their phone" 
That experience and others in Carter's life have led to a greater sense of appreciation for her job and all she has.
"I would just be mistaken not to come to work every day with a sense of gratitude and humility and recognizing how fortunate I am, how privileged I am to be in this position and in this environment," said Carter.