Deflated, depleted Jaguars defense faces high-scoring Bucs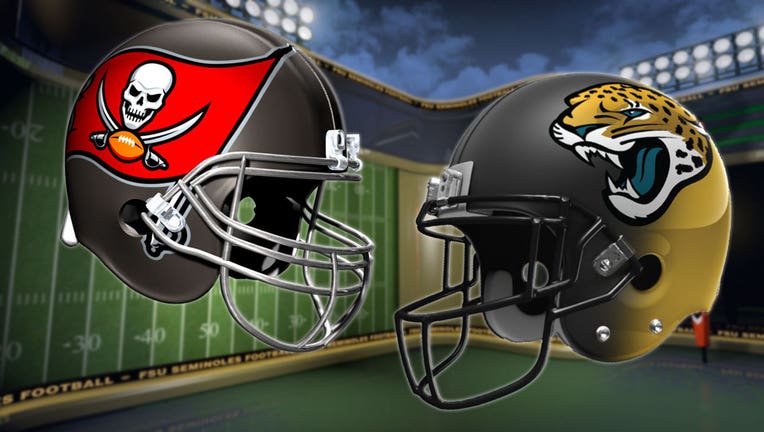 JACKSONVILLE, Fla. - Coming off three consecutive losses and some of their worst defensive performances in years, the Jacksonville Jaguars might have believed they could get things turned around at home against Tampa Bay.
Then they looked at the injury report.
The Jaguars (4-7) likely will be without safety Ronnie Harrison (concussion) and linebacker Myles Jack (knee) against the Buccaneers (4-7) on Sunday. Those are troubling injuries that are expected to land an undrafted rookie and a street free agent their first career starts against one of the NFL's highest-scoring offenses.
"To me, it's not an excuse," defensive coordinator Todd Wash said. "We have to play better and we have to coach better regardless of the 11 that are on the grass. We have confidence with the ones that we put out there and we just have to do a better job of executing."
Jacksonville has given up more than 423 yards a game over the last three, all losses to AFC South foes, and that was with Harrison and Jack in the lineup. Now, the team expects rookie safety Andrew Wingard and third-year linebacker Donald Payne to be thrust onto the field for their first career starts.
The Jaguars also will be without backup linebacker Najee Goode (knee), who was placed on injured reserve early in the week.
The mounting injuries could be problematic against Tampa Bay, which is averaging 28.4 points a game and coming off a 35-22 victory at Atlanta.
"This year has been not really other teams stopping us," Bucs quarterback Jameis Winston said. "It's really been us stopping us. We have the utmost confidence in our offense every single week, but we just have to do our job to give us a chance to win and not beat ourselves."
Winston has thrown for 300 or more yards in six consecutive games. He had 11 touchdowns in those outings, but also turned over the ball 19 times: 15 interceptions and four lost fumbles. Winston leads the league with 20 interceptions and 24 giveaways.
Still, Winston has the league's most potent receiving duo. Mike Evans has 1,043 yards and seven touchdowns, and Chris Godwin has 1,071 yards and nine scores.
"I look at them very different," Jaguars cornerback A.J. Bouye said. "Mike is more like a basketball guy. Godwin reminds me of a running back once he gets the ball in his hands because he's breaking tackles and you see him going up the seam making big plays. Those are the guys making big plays for them."
The Associated Press contributed to this report.