Buehler leads Dodgers over Rays 6-2 for 2-1 Series lead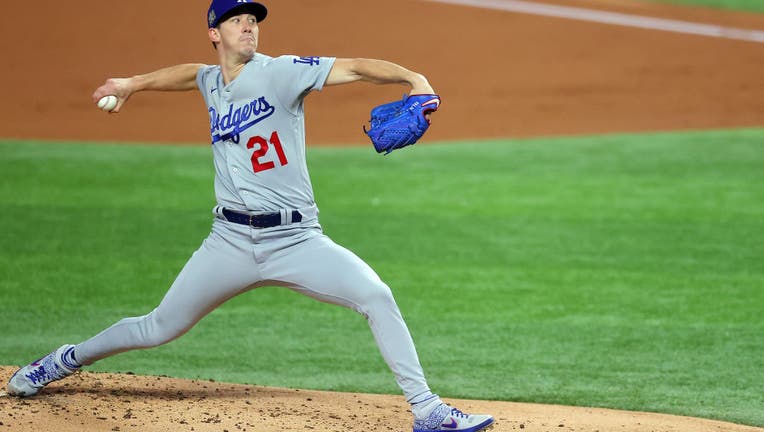 article
ARLINGTON, Texas (AP) - Walker Buehler was dominant for Los Angeles. Just like Orel Hershiser during the Dodgers' last title run.
Buehler struck out 10 in six innings in a pulsating performance, and Los Angeles beat the Tampa Bay Rays 6-2 on Friday night for a 2-1 World Series lead.
Justin Turner homered in the first inning against a surprisingly hittable Charlie Morton, who was chased in the fifth.
Austin Barnes, the Dodgers' No. 9 hitter and catcher, added a sixth-inning homer against John Curtiss and became just the second player to drive in runs with both a homer and a sacrifice bunt in the same Series game.
Los Angeles overwhelmed Tampa Bay in all phases, leaving the Rays' scuffling offense with a .206 average and 11 runs in the Series.
Julio Urías, a hard-throwing Mexican left-hander in a Dodgers lineage dating to Fernando Valenzuela, starts Game 4 on Saturday night for the Dodgers, while the Rays string together several relievers that include Ryan Yarbrough.
Thirty-eight of 59 previous teams that won Game 3 for a 2-1 lead went on to take the title.
Justin Turner and Austin Barnes homered for the Dodgers, who have outhomered the Rays 7-4 in the Series and opponents 25-16 in the postseason. Barnes also drove in a run with a squeeze, the second player with RBIs on a bunt and home run in a Series game behind Héctor López of New York Yankees in Game 5 of 1961.
Steely-eyed like Hershiser, who won MVP honors of the 1988 Series, Buehler has supplanted Clayton Kershaw as the Dodgers' ace. He allowed three of Tampa Bay's four hits and walked one.
The 26-year-old right-hander has allowed one run in 13 Series innings that include seven scoreless in Game 3 against Boston two years ago. He improved to 2-0 with a 1.80 ERA in four postseason starts that include the win over Atlanta in Game 6 of the NL Championship Series last weekend.