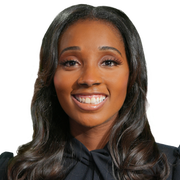 Morgan Parrish joined FOX 35 Orlando in July 2023 as the morning reporter for Good Day Orlando.
Before moving to Orlando, she was the morning reporter at FOX 19 in Cincinnati. While in the Queen City, Morgan enjoyed covering the Bengals road to the Super Bowl as well as all the fun shows and events that came to town.
A northeastern at heart, Morgan is originally from New Jersey, right outside of Philadelphia. Therefore, she is a diehard Philly sports fan - she roots for her Sixers, Eagles and Phillies!
She attended Rutgers University, where she majored in broadcast journalism and media studied and minored in sociology. She completed several internships in college, including at The Today Show and The Meredith Vieira Show.
Morgan is a foodie at heart and enjoys trying new restaurants – especially if buffalo wings are on the menu (so bring on the restaurant recommendations)! 
Outside of work, Morgan enjoys going to the movies, working out, reading, trying new recipes, or exploring the theme parks.
She's excited to be in Central Florida and eager to share your stories.
The latest from Morgan Parrish
A 13-year-old girl from Central Florida is number one in the country for horse riding.
Hello Sister, a talented sibling group in Orlando, are teaming up with a local veteran and first responder organization to bring something special to the community.
A Florida teenager battling cancer and his family can start packing their bags and bathing suits because his wish to go to Hawaii is finally coming true.