'Zero tolerance': Sheriff admonishes Florida teen arrested after reckless 'stunt' in school parking lot
ORLANDO, Fla. - A Central Florida teenager has been arrested after officials said he sped through a high school parking while behind the wheel of a car as another teen rode on top of the vehicle.  The Infinity G37 that Hunter Hamilton was driving crashed into another parked SUV which subsequently damaged two other cars, according to an arrest affidavit.  
Hamilton, 18, is now facing charges of reckless driving and culpable negligence in the reported incident at Lake Mary High School. He and the person who was said to be riding on top of the vehicle have been identified as students who attend the high school in Lake Mary, Florida.
"The incident that occurred at Lake Mary High School on Wednesday is simply unacceptable and will not be tolerated," said Seminole County Sheriff Dennis Lemma. "Not only was this event reckless, but it was also an incredibly dangerous activity that put multiple lives in immediate danger."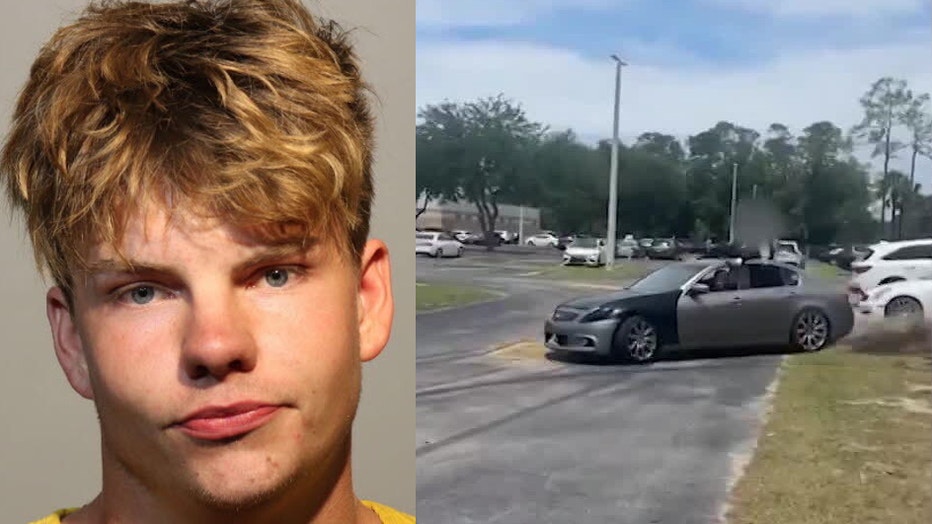 Hunter Hampton, 18, is facing charges of reckless driving and culpable negligence. 
RELATED: Florida students crash in school parking lot during 'incredibly reckless' stunt
Video of the alleged incident captures a group of teens gathered in the school parking lot recording what appears to show the Infiniti speeding past them. As the car picks up speed and rounds the corner of the school's parking lot, the driver makes a wide turn and ends up crashing into a parked SUV.  The impact of the collision causes the student sitting on the roof to slide down the front of the car who then runs away from the crash. 
One of the occupants inside the SUV struck his head on the driver's window, suffering a contusion, an arrest report states.
FOX 35 for the latest headlines:
In a statement sent to Lake Mary High School students and their families, school officials said the incident was unacceptable. 
"These types of behaviors can lead to serious injury and harm to persons and property and are unnecessary. If your child is a driver, please take a moment to speak with them about the importance of safety in vehicles especially when driving on a school campus where others are nearby," it read.
School officials have said there are no previous issues of reckless driving on campus and Sheriff Lemma made it clear there would be "zero tolerance" for such behavior.
"The end of the school year is a time of the year we often see stunts like these increase," the sheriff added. "Individuals who engage in activities like this should expect severe consequences, including arrests from school resource deputies and officers."
Reckless driving and culpable negligence are considered second-degree misdemeanors under Florida law.
Editor's note: An earlier version of this story listed the arrestee's name as "Hunter Hampton," which was the name provided by a spokesperson for the Seminole County Sheriff's Office.