Wrench crashes down onto driver's windshield in I-4 Ultimate construction zone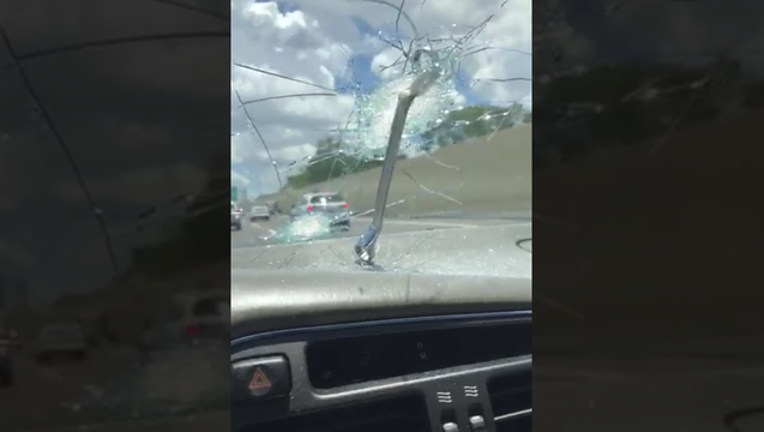 ORLANDO, Fla. (FOX 35 WOFL) - It was just after 2 o'clock in the afternoon on Wednesday, when a driver says he was on I-4 when a wrench hit his windshield, shattering glass everywhere.
"All of a sudden my car just got hit by this wrench. Which is a scary situation for me." It happened on the way to work, "This just came from the construction area on my windshield."
Steven Reid says it happened on I-4 West Bound just past the Maitland Blvd overpass, "It's almost like a gunshot sound. It hit real hard and projected right inside the car." He's not sure where it came from, but it darted down onto his Lexus. "The glass came this side of my face and this side of my shoulder."
FDOT and SGL Contractors say drivers need to file a claim, so they can investigate if it came from construction or another vehicle. So far, they've received 481 claims for vehicle damage through mid-May.
FDOT says 140-thousand vehicles travel here each day. "Just kept driving in my lane and as soon as I got an opportunity I went slowly over to the next lane, went to the next exit pulled over and called 911."
SGL says this appears to be a boxed mechanic's wrench, used for automotive, rather than construction.
But we reached out to an independent contractor who says, the wrench can be used in construction for tightening bolts when assembling steel.
"Thank God I didn't hurt anybody and swerve in the other lane or anybody was in the car with me that could have been affected by that." Steven warns drivers to stay calm if this happens to you, "Just let everybody know, driving through the construction area, just be cautious, drive the speed limit, stay in the lane."
Steven says insurance will pay for the damage, but he plans to file a claim, hoping to find out where the wrench came from.