Wreckage believed to be El Faro cargo ship found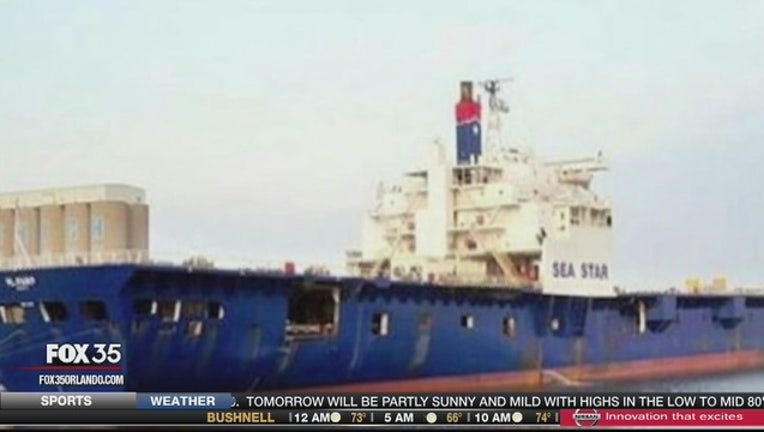 article
WASHINGTON (AP) — A search team using sophisticated sonar has found the wreckage of a vessel believed to be the cargo ship El Faro, which went missing with 33 crewmembers Oct. 1 during Hurricane Joaquin, the U.S. National Transportation Safety Board said late Saturday.
The federal agency issued a statement that searchers aboard a U.S. Navy ship believed they located wreckage of the ship at 1:36 p.m. EDT Saturday at a depth of about 15,000 feet in waters in the vicinity of the ship's last known position. I
The statement released by the NTSB's Peter Knudson added that the identity of the wreckage must still be confirmed using a deep ocean remotely operated vehicle, but gave no immediate details when that effort would begin. The 790-foot El Faro was reported missing east of the Bahamas, according to the Coast Guard.
The El Faro's captain had called in before the vessel disappeared saying the ship had lost its engine power during its voyage from Jacksonville to San Juan, Puerto Rico. The captain, Michael Davidson, said the ship was listing, and taking on water.
The Coast Guard searched for the ship for days after El Faro disappeared in the storm, finding debris and one body in a survival suit.
The El Faro was scheduled for retirement from Caribbean duty and for new retrofitting for service between the West Coast and Alaska, company officials have said. Both the El Faro and its sister ship were slated to be replaced by two new ships.
Aboard when it sank were five engineers from Poland, who were working on the retrofitting as the ship sailed to Puerto Rico.
NTSB investigators said Davidson intended to pass 65 miles from the center of the storm, a decision maritime experts said was risky.