Why did the Orlando 4th of July fireworks show not start on time at Lake Eola Park?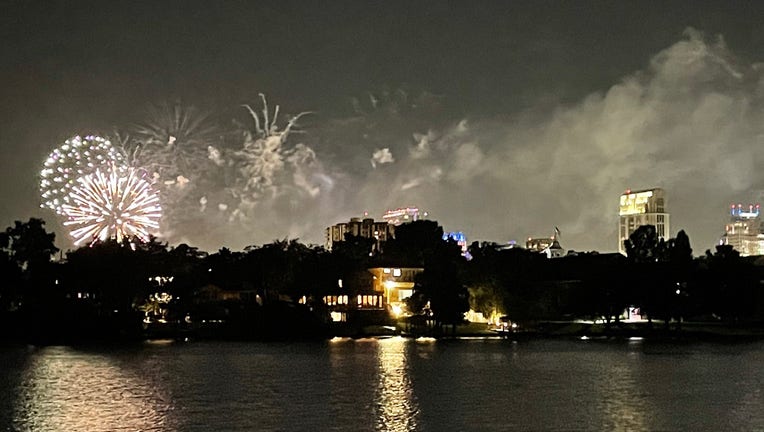 ORLANDO, Fla. - Why was Orlando's Fourth of July fireworks show at Lake Eola so late to start?
The show itself was expected to start between 9:10 p.m. and 9:15 p.m., but did not ultimately begin until 9:45 p.m. Minutes later, as fireworks were still lighting the sky, crowds began to run out of the park, seemingly spooked by something that caused a chain reaction.
More than 100,000 people were estimated to be at the event, according to a spokesperson for the City of Orlando. Soon, hundreds of people began to flood out into the streets. 
What caused the delay in the Orlando fireworks show? 
A spokesperson for the City of Orlando told FOX 35 News in a statement that the city had to switch fireworks vendors at the last minute. The previous vendor, Expshows, notified the city on Sunday, June 26, that it would not be able to execute the contract due to product availability. 
"The new vendor had only about a week to plan, and did experience some staffing and equipment issues which caused minor delays in the execution and production of the show last night," a city spokesperson said in a statement to FOX 35.
Witness: 'Go, Go, Go'! 
About ten minutes into the fireworks show, something sent hundreds of panicked people running for cover. People were seen diving over bushes, climbing fences, and grabbing their loved ones to run from the event. 
After several minutes, the Orlando Police Department alerted the community via social media that there was no evidence that a shooting had occurred in the area. Several people suffered minor injuries during the stampede. 
FOX 35 News spoke to a man who witnessed the chaos from his balcony Monday night. "I really did think someone must've shot off gunfire. But, when I just saw everybody panicked, I mean we weren't into 15, 20 minutes into the show, and everybody just panicked and started taking off," Christopher Gordon-Summers said. "So I'm glad I was where I was."
Orlando police share new surveillance video 
During a news conference Tuesday morning, Orlando Police Chief Orlando Rolón of shared new video showing thousands of people gathered at the lake for the fireworks display and a couple of people could be seen on video jogging through the crowd with hoodies on. Moments later, the crowd started to run away from the area and a chain reaction began.
Rolón said the two people jogging could be totally innocent, but authorities are asking for anyone who may have seen something suspicious to report it. If you have video or photos from the incident at Lake Eola, you're asked to send them to Orlando police by uploading it here. 
Did you lose an item during the incident?
A city spokesperson said about 50 items, like cell phones, car keys and pairs of shoes were found following the chaos at the event.
Those who may have lost an item should email Eolahouse@orlando.gov with a description of what they are looking for. If officials have your belongings, they will let you know.