SpaceX 1 for 1 with Friday launches after scrubbing Falcon Heavy mission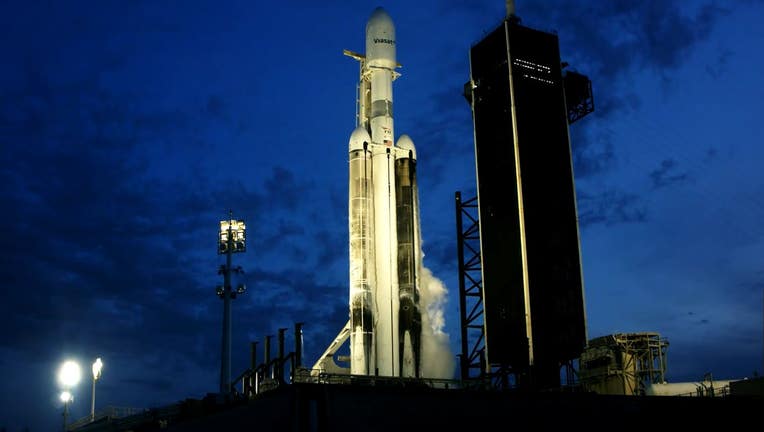 article
ORLANDO, Fla. - SpaceX scrubbed the launch of a Falcon Heavy rocket from Cape Canaveral with just under a minute to go on Friday evening. It would have been the second launch of the night from Florida for the space company.
After Thursday's inclement weather delayed the launch of the Falcon Heavy, SpaceX said it would try again on Friday night, just a few hours removed from another launch of a Falcon 9 at an adjacent launch pad. But the launch was aborted with seconds remaining, and no reason was immediately given. 
The SES O3b mPOWER mission successfully launched atop a Falcon 9 just after 6 p.m.  The second launch planned is for the ViaSat-3 Americas mission atop a Falcon Heavy was to have happened at 8:26 p.m. ET.  
The Falcon Heavy sits at Kennedy Space Center's Launch Pad 39A, which was struck by lightning during Thursday night's storms (see photo below).  In a tweet, SpaceX said the rocket and tower were inspected, and "all systems are looking good."
Here is a look at the two missions for SpaceX this evening.
SpaceX SES O3b mPOWER mission
The space agency successfully launched a Falcon 9 just after 6 p.m. on Friday, carrying the SES O3b mPOWER mission into medium-Earth orbit.  The rocket soared through a cloud deck after lifting off from Space Launch Complex 40 (SLC-40) at Cape Canaveral Space Force Station. 
Approximately eight minutes after launch, the first stage booster supporting this mission landed on the Just Read the Instructions droneship, which was stationed in the Atlantic Ocean.  It was previously launched for Crew-6. 
SpaceX ViaSat-3 Americas Mission
SpaceX was targeting Friday night for a Falcon Heavy launch of the ViaSat-3 Americas mission to geostationary orbit from Launch Complex 39A (LC-39A) at NASA's Kennedy Space Center. Also on board this mission is Astranis's first MicroGEO satellite and Gravity Space's GS-1 satellite. 
One of the side boosters on this mission previously supported Arabsat-6A, STP-2, COSMO-SkyMed Second Generation FM2, KPLO, and three Starlink missions, and the second previously supported launch of Arabsat-6A and STP-2.
SpaceX said it will not attempt to recover the two boosters and the center core. 
Residents along Florida's Space Coast are familiar with a typical Falcon 9 rocket configuration. A Falcon Heavy configuration includes a center core on which two Falcon 9 boosters are attached, with the second stage atop the center core. 
ViaSat-3 is a constellation of three ultra-high-capacity, Ka-band satellites expected to increase our global coverage and network capacity to bring connectivity where needed. When fully operational, the network is expected to enable billions — in homes and businesses, on planes and at sea, and in communities that were once off the grid — to connect with the people and information they need.
ViaSat-3 constellation at a glance
Spectrum: The ViaSat-3 constellation operates on Ka-band
Coverage: The ViaSat-3 constellation is designed to cover North and South America, Europe, Africa, the Middle East, and Asia Pacific
Speed: Each ViaSat-3 satellite is planned to have the ability to deliver download speeds of up to 100+ of Mbps
Capacity: Each satellite is anticipated to deliver at least 1 Terabit of throughput data per second (1Tbps)
Weight: Each satellite is expected to weigh approximately 6 metric tons