War in Ukraine: 6-year-old girl killed in Russian shelling
MARIUPOL, Ukraine - **WARNING: Story contains graphic details. 
In the port city of Mariupol, where Ukrainians are trying to fend off a Russian advance, an ambulance raced into a city hospital Sunday, carrying a 6-year-old girl mortally injured in Russian shelling.
She was pale. Her brown hair was pulled back with a rubber band. Her bloody pajama pants were decorated with cartoon unicorns. She was brought in with her wounded father, his head bloodied and bandaged.
A medical team pumped her chest, fighting desperately to revive her. Her mother stood outside the ambulance, weeping.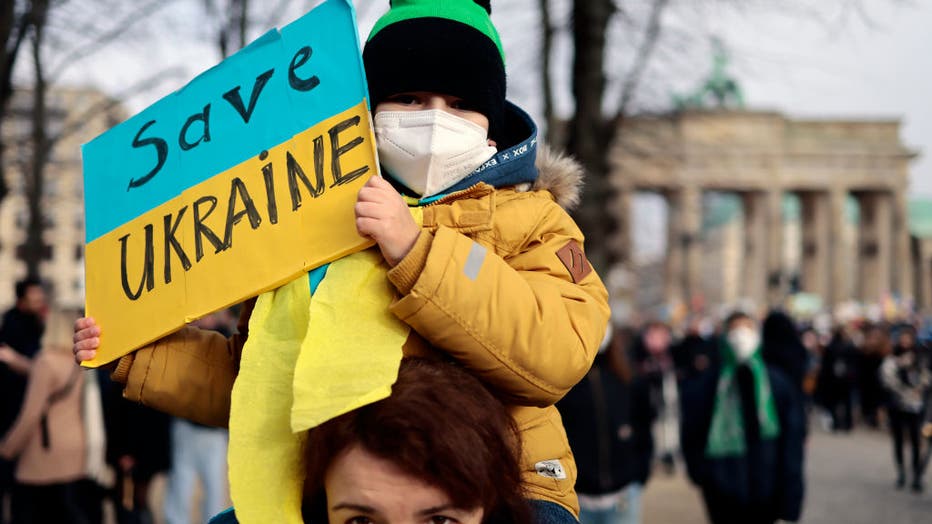 BERLIN, GERMANY - FEBRUARY 27: People gather at Brandenburg Gate to protest against the ongoing war in Ukraine on February 27, 2022 in Berlin, Germany. Battles across Ukraine are raging as Ukraine seeks to defend itself against a large-scale Russian
"Take her out! Take her out! We can make it!" a hospital worker shouted, pushing a gurney to the ambulance.
The girl was raced inside and doctors and nurses huddled around her. One gave her an injection. Another tried to revive her with a defibrillator. A nurse wept. A doctor in blue medical scrubs, pumping oxygen into her, looked straight at the camera of an Associated Press video journalist who had been allowed inside.
RELATED: Ukraine latest: Putin puts Russia's nuclear deterrent forces on alert amid tensions with West
"Show this to Putin," he said angrily. "The eyes of this child, and crying doctors."
The girl, whose name was not immediately known, could not be saved. The doctor reached gently over her face to close her eyes.
RELATED: Former Ukrainian beauty queen joins fight against Russian invasion
Her body was left alone in the room, covered by her brightly colored polyester jacket, now spattered with blood.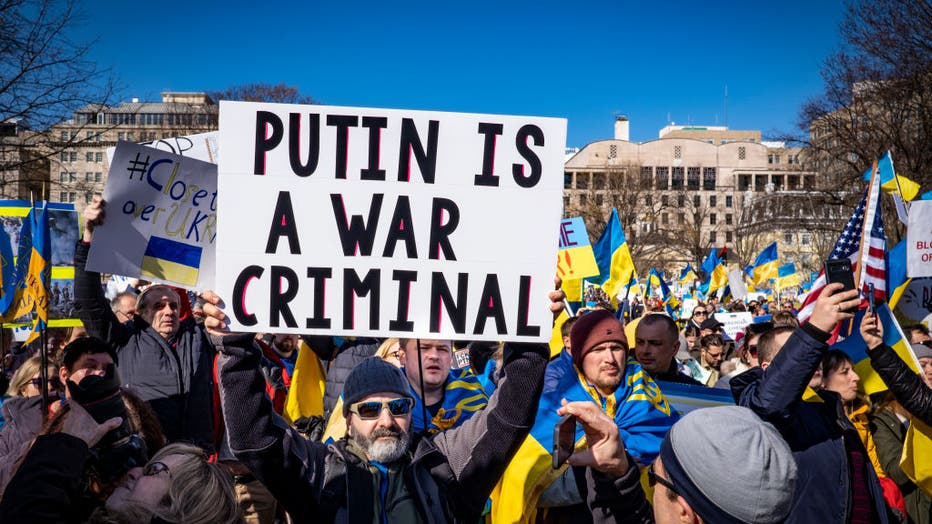 WASHINGTON, DC - FEBRUARY 27: People participate in a pro-Ukrainian protest in Lafayette Park near the White House on February 27, 2022 in Washington, DC. Many U.S. cities have seen rallies in support of Ukraine over the weekend as the invasion by Ru
In a shocking move that immediately unearthed fears many thought permanently buried from the Cold War of the previous century, Putin ordered Russian nuclear weapons prepared for increased readiness to launch, ratcheting up tensions with Europe and the United States over the conflict that is dangerously poised to expand beyond the former frontiers of the defunct U.S.S.R.
RELATED: Orlando's Ukrainian Festival takes on special meaning
The Russian president told his defense minister and the chief of the military's General Staff to put the nuclear deterrent forces in "special regime of combat duty."
Citing "aggressive statements" by NATO, Putin issued a directive to increase the readiness of Russia's nuclear weapons — a step that raised fears that the invasion of Ukraine could boil over into nuclear war, whether by design or mistake.
Click here for the latest Central Florida news, Florida stories and local headlines.