View of Seffner sinkhole becomes clear as house is demolished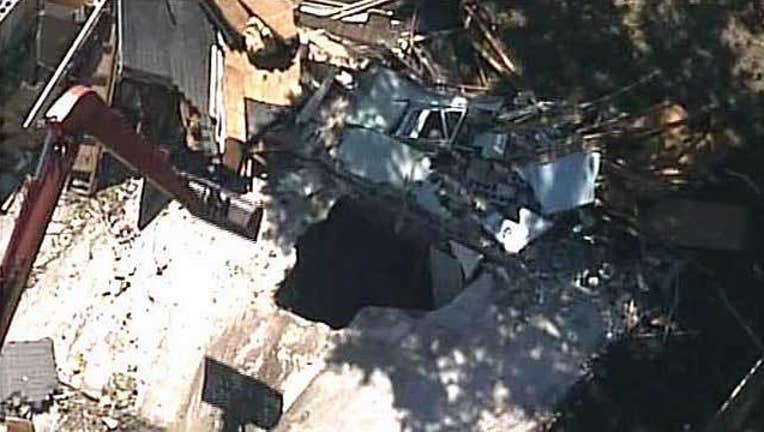 article
It would become 37-year-old Jeffrey Bush's final resting place.
Crews in Seffner are carefully tearing down the structure piece by piece. As crews knocked down walls and cleared the debris, the view of the sinkhole's opening became more clear.

By 3 p.m. Monday, the interior of the house was largely torn down.

It was a dance of destruction and delicacy as workers brought the walls down while preserving as much of the family's belongings as they could. 
Firefighters from Hillsborough County delivered priceless possessions in exchange for hugs and cheers. Wanda Carter clutched a Bible rescued from the rubble.
"(This) means that God's still in control, and he knew we needed this for closure," Carter explained. "We have each other, and that's all that matters."
Despite concerns of the ground giving way around it, the house crumbled but didn't cave. Carter couldn't bear to watch.
"I had my eyes closed," she said.
"I think about him every day man," said Jeff Bush's cousin, Jordan Wheeler. "Every day it's hard to sleep."
Carter too has had problems getting rest since Thursday night's tragic turn of events.
"You never know what one moment is going to the next," she added. 
Speaking to the media Monday morning, Jeremy Bush said he wanted everyone to keep his mother and father in their thoughts and prayers.
"My mom and dad are going through hell, too. They lost a son," he said.

The massive crevice has also forced the Bush family's neighbors to evacuate their homes. During a Saturday morning news conference, officials announced the green house to the left of the Bush's had been compromised by the sinkhole.
Engineers will check on the structural integrity of those residences over the next few days. Crews have been using heavy equipment to try and get inside the home. Engineers have been studying the hole for days, but once they can see it, they should learn a lot more.
For friends and family of the deceased, Sunday's activity marked the beginning of the end of this unthinkable tragedy.
"I've been crying every day. I can't stop, I can't help it," Wheeler said.