VIDEO: Florida mayor narrowly escapes injury as cars collide near crosswalk
FLAGLER BEACH, Fla. - The Mayor of Flagler Beach was narrowly missed by a reckless driver who crashed head-on with another vehicle during a community beach clean-up on Saturday, according to police.
Flagler Beach Police Chief Matt Doughney said a Palm Coast man named Andrew Mintz was spotted speeding and weaving through traffic. Officers began to pursue him but pulled away once they noticed he was headed to the crowded downtown area.
The posted speed limit in the area is 25 miles per hour, but according to investigators, Mintz was going well over that limit as he crossed the line and crashed into an oncoming SUV. The driver of the other vehicle was unharmed, however, a newly-installed pedestrian crossing sign was knocked over in the process.
"I don't know why he drove the way he did, but it was absolutely one of the most reckless things I've seen," Chief Doughney said.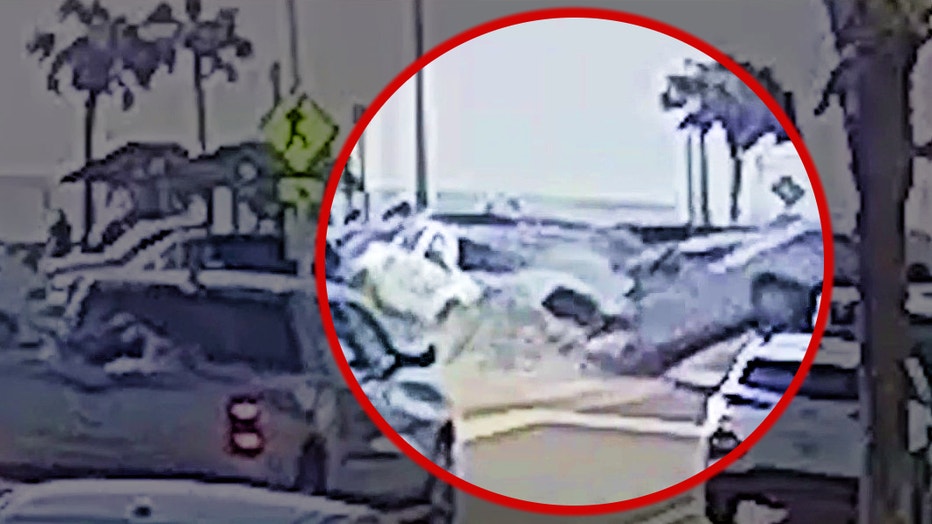 A security camera attached to a Salty Turtle shop recorded the crash. Mayor Suzie Johnston was accompanied by former mayor Linda Provencher to the community event and was just feet away from the pedestrian crossing where the crash occurred.
"It could've been the worst scenario possible," Doughney said.
The footage appears to show the driver attempting to pass at an unsafe speed. The driver who was involved in the crash walked away without injuries. Mintz was life-flighted to a nearby hospital in serious condition. No other injuries were reported. 
The crash is under investigation by the Florida Highway Patrol.