Two St. Pete nursing home employees arrested for physically abusing elderly residents, deputies say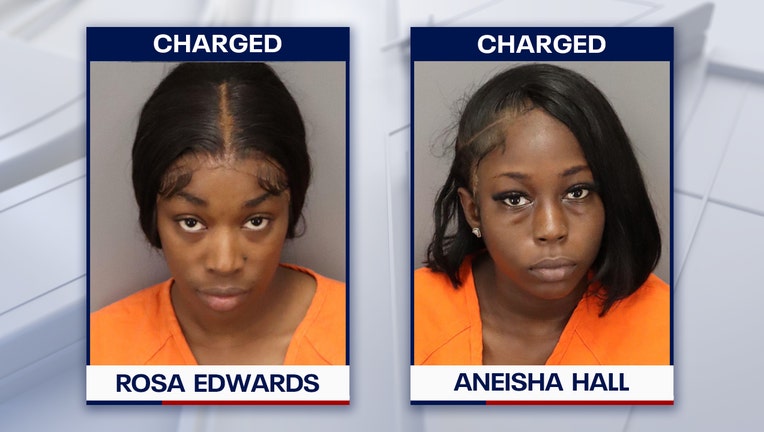 article
ST. PETERSBURG, Fla. - Two nursing home employees were arrested after they were caught physically abusing elderly residents, according to Pinellas County deputies. 
Rosa Edwards, 23, and Aneisha Hall, 19, were arrested on two counts each of battery on a person 65 or older, the Pinellas County Sheriff's Office said. Both employees are currently suspended, pending termination from Inspired Living at Ivy Ridge Assisted Living Facility on 40th Avenue North in unincorporated St. Petersburg, investigators said. 
The sheriff's office said they received a report on Sunday, March 12, of two employees battering two different residents at the nursing home. The executive director at the facility reported it to deputies after watching the incident on surveillance video. 
READ: Clearwater Beach shop shooting victim dies as police continue search for persons of interest
Investigators said th surveillance video caught Edwards and Hall starting an altercation with an elderly man who was pushing another resident, an elderly woman, in her wheelchair. That's when deputies said Edwards was seen whipping the man with a lanyard while laughing. 
Edwards and Hall then grabbed the man and started taking him to the ground as he tried to hold on to the wheelchair, which caused it to fall sideways with the woman still sitting in it. PCSO said both employees are then seen running away out of the cameras view, leaving both victims laying on the ground. 
According to Pinellas County deputies, Hall and Edwards reported the incident to their co-worker, but they told them that the man battered the woman, and they were not involved in the altercation. 
When deputies spoke with Edwards, she admitted that she used excessive force while dealing with the incident and said they should have handled it differently, PCSO said. 
The elderly residents were not injured in the altercation, according to deputies.