Trump speaks at Michigan rally on night of White House Correspondents' Dinner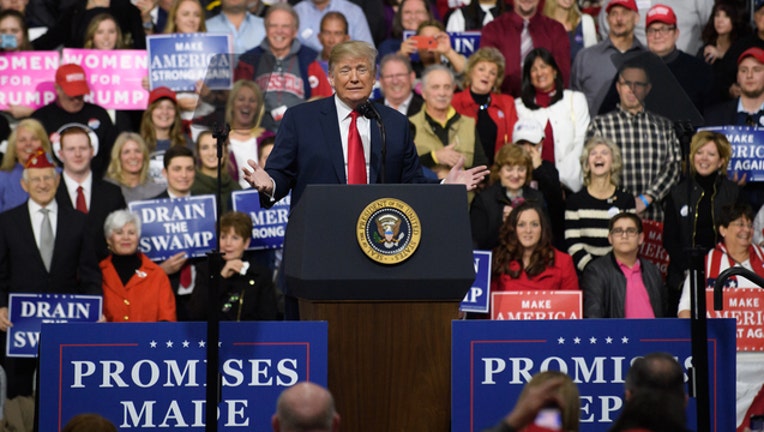 article
WASHINGTON - President Donald Trump took aim at familiar political targets and added a few fresh ones during a campaign-style rally Saturday night in an Upper Midwest state that gave him a surprising victory in the 2016 election.
Trump has been urging voters to support Republicans for Congress as a way of advancing his agenda. In his rally in Washington Township, he repeatedly pointed to Sen. Debbie Stabenow of Michigan as one of the Democrats who needed to be voted out.
After saying Stabenow was standing in the way of protecting U.S. borders and had voted against tax cuts, Trump said: "And you people just keep putting her back again and again and again. It's your fault."
Earlier Saturday Trump tweeted criticism of Democratic Sen. Jon Tester of Montana over his role in the failed nomination of White House doctor Ronny Jackson to run the Department of Veterans Affairs, calling for Tester to resign or at least not be re-elected this fall.
In his rally remarks, Trump railed against the allegations Tester aired against Jackson and suggested that he could take a similar tack against the senator.
"I know things about Tester that I could say, too. And if I said 'em, he'd never be elected again," Trump said without elaborating.
As he has at similar events, Trump promoted top agenda items that energize grassroots conservatives — appointing conservative judges, building a wall on the U.S.-Mexico border, ending "sanctuary cities" and protecting tax cuts approved by the Republican-led Congress. He also took credit for the warming relations between North and South Korea, telling his audience "we'll see how it goes."
Trump chose a friendly venue for his rally, which not coincidentally came the same night as the annual White House Correspondents' Dinner. He skipped the dinner last year, too, and attending a rally in which he took time to attack the news media and assure his audience — as he did in Washington Township, about 40 miles north of Detroit — that he'd rather be with them.
Ahead of the rally Trump said in a fundraising pitch that he had come up with something better than being stuck in a room "with a bunch of fake news liberals who hate me." He said he would rather spend the evening "with my favorite deplorables."
During the 2016 campaign, Clinton drew laughs when she told supporters at a private fundraiser that half of Trump supporters could be lumped into a "basket of deplorables" — denouncing them as "racist, sexist, homophobic, xenophobic, Islamophobic, you name it."
Clinton later did a partial rollback, said she had been "grossly generalistic" and regretted saying the label fit "half" of Trump's supporters. But she didn't back down from the general sentiment.
Trump soon had the video running in his campaign ads, and his supporters wore the "deplorable" label as a badge of honor.
Trump repeatedly weaved back into immigration and his support for a border wall throughout the speech.
"If we don't get border security, we're going to have no choice, we'll close down the country," Trump said.
He accused Democrats of not wanting to secure the border and keep violent criminals out of the country.
"Debbie Stabenow is one of the leaders for weak borders and letting people in. I don't know how she gets away with it," Trump said. "A vote for a Democrat in November is a vote for open borders and crime. It's very simple. It's also a vote for much higher taxes."
Macomb County, the site of Trump's rally, is among the predominantly white counties known as a base for "Reagan Democrats" — blue-collar voters who abandoned the Democratic Party for Ronald Reagan, but who can be intriguingly movable.
Democrat Barack Obama won the county twice in his White House runs, then Trump carried it by more than 11 percentage points.