Tropical Storm Jose forms in the Atlantic as NHC continues to watch Idalia, Franklin, Gert and more
ORLANDO, Fla. - Tropical Storm Jose formed in the Atlantic Ocean about 785 miles east-southeast of Bermuda early Thursday morning, as the National Hurricane Center continues to monitor what is now Post-Tropical Storm Idalia, Hurricane Franklin, and Tropical Depression Gert and a tropical disturbance. 
Early Friday morning, Jose had maximum sustained winds of 60 mph and is moving north at 18 mph. It has a minimum central pressure of 997 mb. 
Forecasters said Tropical Storm Jose will see little change in strength over the next day or so and is expected to be absorbed by Hurricane Franklin by early Saturday. 
There are no coastal watches or warnings in effect.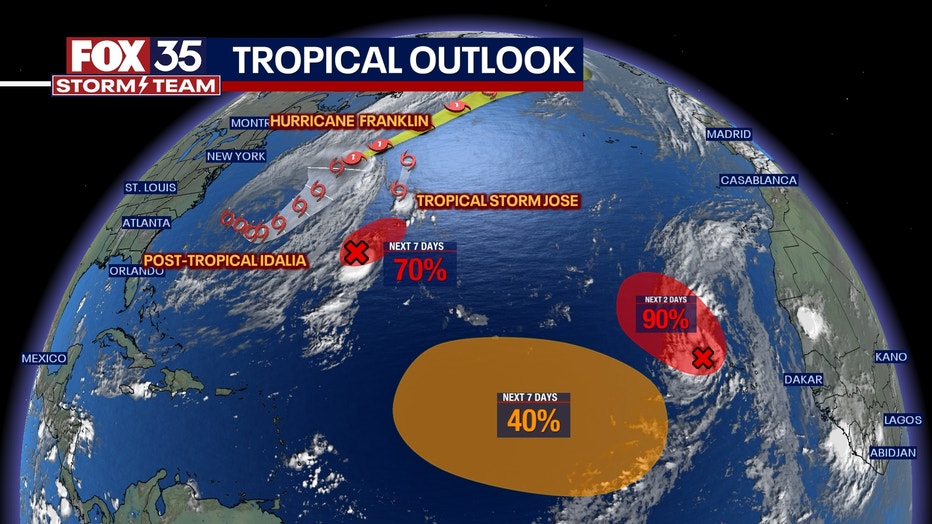 Post-Tropical Storm Idalia expected to affect Bermuda
On the forecast track, Idalia will approach Bermuda over the weekend and will bring heavy rainfall which will likely lead to areas of flash flooding on the island. 
The storm is expected to gradually weaken through early Saturday but could restrengthen into a tropical storm this weekend. 
Hurricane Franklin expected to become an extratropical cyclone
The NHC continues to monitor Hurricane Franklin which is showing signs of losing its tropical characteristics while drier, more stable mid-level air and increasing northwesterly shear impedes over the northwest portion of the cyclone. 
It is expected to become an extratropical cyclone later Friday night or early Saturday. The hurricane, however, is showing little change in strength and will maintain its hurricane-force sustained winds through the weekend. 
It could begin to gradually weaken as early next week.
Other tropical disturbances
A tropical distubeance near the Cabo Verde Islands is forecast to become a tropical depression or tropical storm later Friday morning.
It has a near 100% chance of formation over the next 48 hours.
Tropical Depression Gert is moving toward the east near 8 mph, and a slower eastward motion is expected today. A turn toward the northeast is expected on Saturday and that motion should continue through late in the weekend., the NHC said.
Some slight strengthening is possible Friday, and Gert could become a tropical storm – again – but gradual weakening is forecast to begin over the weekend.