Tree resembling the Grim Reaper terrifies Florida drivers on this road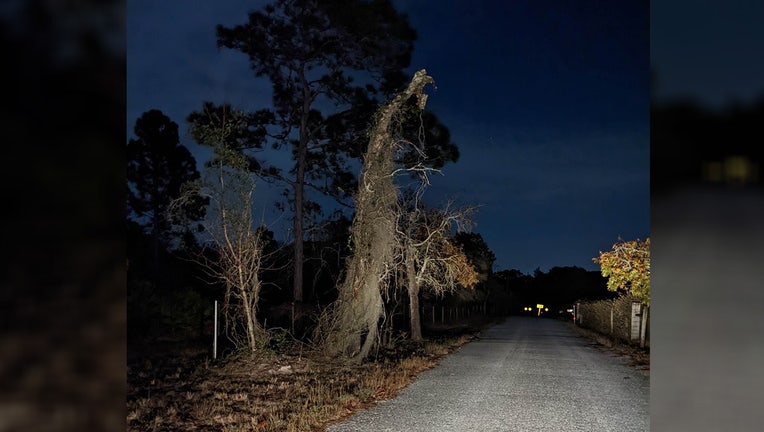 article
BROOKSVILLE, Fla. - This is what nightmares are made of!
A Florida woman driving down a dark road came across a "very creepy" tree that resembles the Grim Reaper waiting for a ride.
Laura Trumpold posted the photo on the Unseen Florida Facebook page in February. The picture shows a ghostly cloaked figure at the edge of Adams Road in Brooksville, Florida and as you look closer at the image, dead vines, moss, and branches form what eerily resembles legs and arms reaching out toward the road. 
"'The Florida Reaper': one of the creepiest looking dead trees I've ever seen and I pass it every night on the way home," Trumpold wrote under the photo. 
TRENDING: 'Ugly' Orlando shelter dog that went viral gets adopted, has surgery on eyes: See how she looks now
She told FOX 35 that although she knows it's just a tree, it still creeps her out every time. 
"I cannot unsee that figure," she said. "The part that looks like the face - the very top of the rotting tree – broke off and couldn't fall to the ground because it got hung up in the vines."
TRENDING: Shaq's Big Chicken announces opening date, location for Orlando restaurant
The photo gave other viewers the creeps too!
"Yes, very creepy. I imagine worse on a rainy night," wrote one person. 
"Looks like it's waiting to get you!" another wrote. 
However, some just saw a tree that was in rough shape. 
"What am I missing? Just looks like a bunch of tangled vines and branches."
"Looks like something my dog threw up."
Trumpold explained what she was seeing like this: "The top of it looks like a face with a veil or hood. The right arm is folded in with a branch that goes horizontally. The left arm sticks out a bit further and is lower. Its body is outlined with a cloak that drapes to the ground."
Do you see it?