Terminally ill Florida teen's wish to fly planes comes true
PALM COAST, Fla. - Austin Booth is doing things not a lot of 16-year-olds can say they've done. He flies planes.
It hasn't been always smooth skies though, as Austin was born with multiple medical complications – mainly major heart and lung issues. Doctors didn't expect him to live 30 seconds past coming out of his mom's womb, definitely not to 16 years.
"He was born with a one-in-a-million heart. There's nobody else in the world that has a heart like him. We have four chambers, he has one," Angie Booth, Austin's mother said.
Angie said Austin's had 24 procedures to keep him alive. 
"He was expected to live until he was 8 or 9. They said he would eventually outgrow his heart. His heart would just quit growing and from there he'll just start to decline. Doctors have told me he won't die of a heart attack, he'll just die of his heart failing, when the time does come."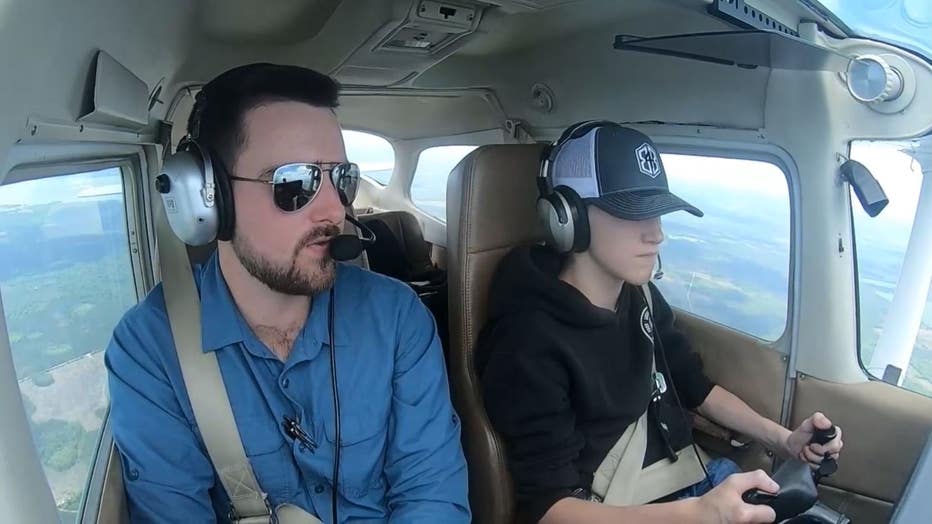 He clearly has defied that. 
Austin dreamed of flying planes one day. He started to fall in love with the idea after playing video games. That love soon turned into reality.
"My first thought was he gets to do a dream. He gets to have his dream come true," Angie said. "Other kids at home run touchdowns, hit baseballs. He's prayed to be normal, but you know God gave him this. It's what we have to go with."
Palm Coast-based Teens in Flight took Austin up for his first flying lesson in December 2020. 
"It was fun, scary, kind of like, intimidating cause you don't know what's going to happen after. Like where are the birds, where is the radar, what do certain buttons do, what do certain buttons not do," Austin said.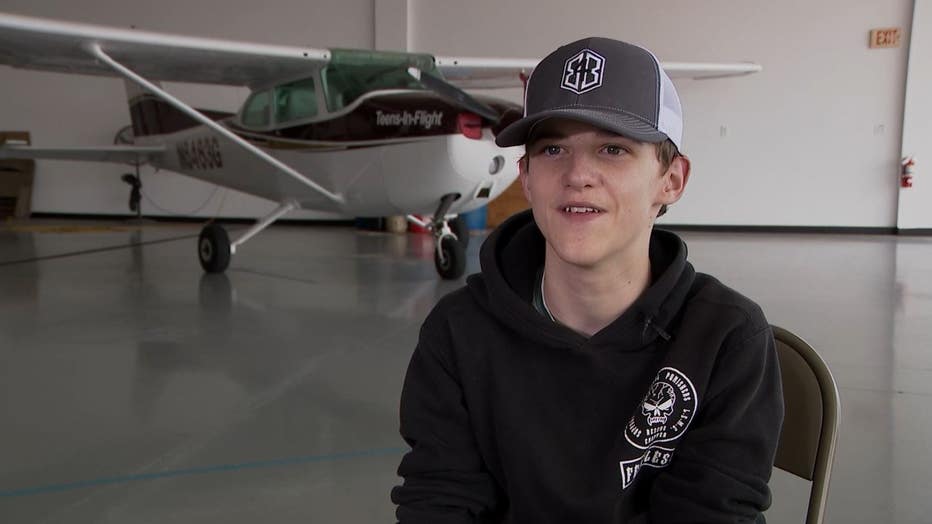 When asked if he forgets about all the complicated health issues he's going through, Austin had a pretty simple answer.
"I don't really like to think about those. I don't really ever think about them. They're just kind of there," Austin said.
Teens in Flight was originally started to help survivors of military loved ones killed in battle, soon it expanded to include the children of first responders. The goal was to help teens whose parents were killed or hurt in battle, or in the line of duty. Now, the group also helps at-risk youth and children from low-income families.
"Austin came to us about two years ago. He's already outlived his life expectancy. At that time, his dying wish was to go up in a small plane. So, we took him up not just take him, but he had a chance to actually fly it," Ric Lehman, Executive Director for Teen in Flight said.
While it can be scary for Angie to see her son fly a plane, she knows it's all worth it.
"He's prayed to be normal. You know, God gave him this, and it's what he has. It's what we have to go with. You know, have him be able to fly is a dream come true because he absolutely loves it," Angie said.