Teenager brings guns to school, but his parents disarm him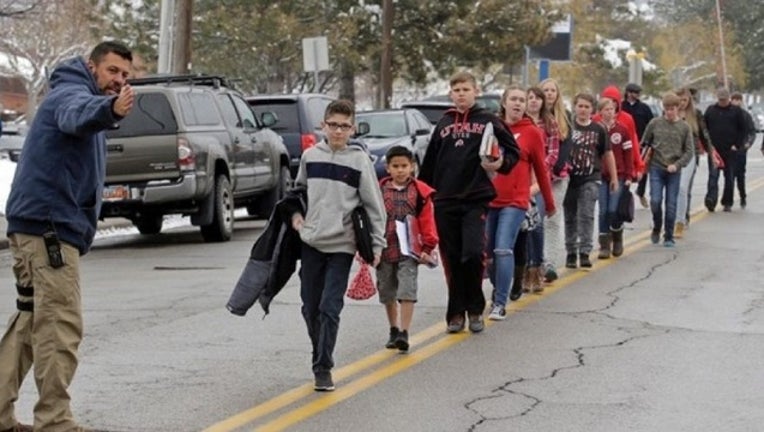 article
BOUNTIFUL, Utah (AP) - Police are applauding a mother and father who disarmed their 15-year-old son at a Utah junior high school, after they noticed him acting strangely in the morning and realized he had taken the family's shotgun and handgun.
The parents arrived shortly after the boy entered a classroom in the northern Utah city of Bountiful and fired one round into the ceiling, injuring no one but leaving a hole the size of a small plate, Bountiful Police Chief Tom Ross said.
The boy also pointed the shotgun at his own neck, Ross said.
The boy didn't say a word as a teacher and one of 26 students tried to talk him out of firing again, giving his parents a few extra second to arrive at the classroom and take him into the hallway, Ross said.
The chief applauded that the parents had recognized something was off and taking action, though he declined to provide specifics on what the parents noticed.
Police said the boy had walked to Mueller Park Junior High with the shotgun and two boxes of ammo under a long trenchcoat-type jacket, concealing the weapons. He did not point the shotgun at any other students.
Investigators believe the suspect took the weapons from his parents' gun safe, but they don't know yet how he got them out, Ross said. Police are also investigating his motive.
The suspect, whose name is being withheld because he's a juvenile, has been booked on suspicion of two charges of theft of a firearm and two counts of taking a weapon into a school.
Parents spent hours waiting for their children after the shooting as police searched the school to make sure it was safe then sent students in small groups to reunite with parents waiting at a nearby church.
Student Dan Fowers, 15, told The Associated Press that the teenager with the guns came into a classroom minutes after class began and fired one round from a shotgun into the ceiling before a woman grabbed the gun and told him to stop.
Fowers said the woman threw the gun on the ground and pulled the boy back into a hallway.
"It was really scary," Fowers said. "The look on his face, it kind of looked like he wanted to do some damage."
He said students in the classroom dove under their desks, as they'd been taught during lockdown drills, with some screaming and crying.
As the parents intervened, a teacher called 911 and a police officer who happened to be down the street arrived and took custody of the student soon after, police said.
The school, about 11 miles north of Salt Lake City, remained on lockdown as more than 100 officers went room-by-room through the building to ensure it was safe.
Candy Beckstead said she was at a dentist's office when her sister called to tell her that there was something going on at her son's school.
She didn't hear from her 8th-grade son but rushed to the school.
"I freaked out and went into panic mode," she said. "Screaming, crying."
About 840 students in 7th, 8th and 9th grades attend the school, according to state data. Bountiful is a city with a predominantly Mormon population of about 44,000 people.
The incident comes about two weeks after another Utah student stabbed five high school classmates and himself before he was cornered by school workers, according to police.
___
Price reported from Salt Lake City. Associated Press writer Lindsay Whitehurst in Salt Lake City contributed to this report.