Teen dies after tapeworm egg infestation in his brain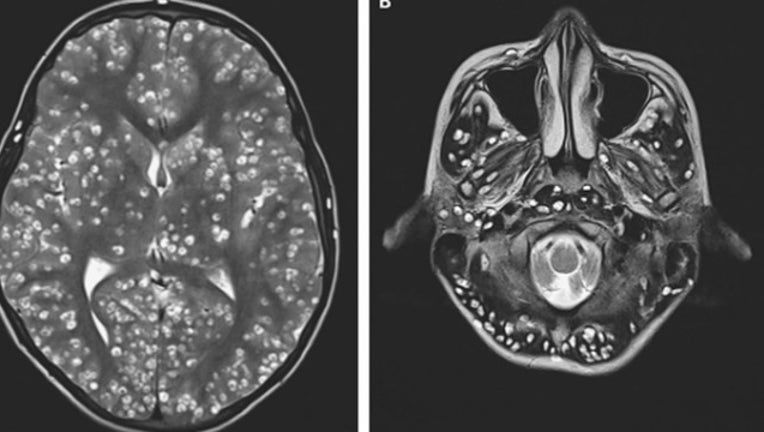 FARIDABAD, India (FOX 35 ORLANDO) - An 18-year-old has died after parasites infested his brain, according to a case study published by the New England Journal of Medicine. 
The parents of the teenager said their son had been complaining about pain in his groin for about a week and was suffering from seizures.
Dr. Nishanth Dev and S. Zafar Abbas of the ESIC Medical College and Hospital in Faridabad said the patient came to the ER with swelling over his right eye.
The seizures, known as grand mal seizures, cause stiffened muscles and loss of consciousness.
Doctors performed an MRI exam that showed numerous cystic lesions throughout the cerebral cortex, brain stem and cerebellum.
The teen was diagnosed with Neurocysticercosis. It's a parasitic disease of the brain as a result of accidental ingestion of tapeworm eggs. The disease is spread by contact with tapeworm-infected human feces through sources like contaminated food, water, and dirty hands.
The doctors decided against treating him with antiparasitic medications because of the risk of brain bleeding and inflammation which can lead to vision loss.
Instead, they gave the teen anti-inflammatory drug, dexamethasone, plus antiepileptic medications.
Dev and Abbas report that the patient died two weeks later.