Tarantino says police groups vilifying critics of brutality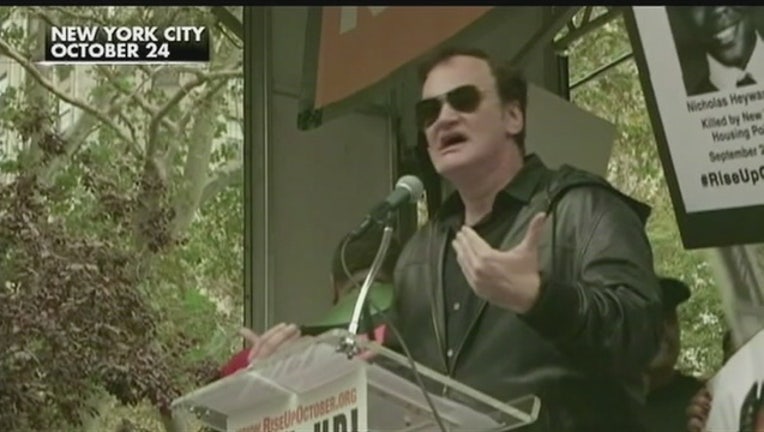 article
NEW YORK - Quentin Tarantino says police groups are vilifying critics of police brutality to avoid focusing on their problems with enforcement.
The Academy Award-winning filmmaker appeared on MSNBC's "All in With Chris Hayes" on Wednesday to continue to defend himself from a backlash by police groups that have called for a boycott of his upcoming movie, "The Hateful Eight." The police groups were angered by comments he made at an anti-police brutality rally in New York, where he said he was on the side of the "murdered."
Tarantino said he's being "demonized."
"Anybody who acknowledges that there's a problem in law enforcement in this country right now is considered by law enforcement part of the problem — whether that be me, whether that be (New York Mayor) Bill de Blasio, whether that be President Barack Obama," he said.
Tarantino, who also responded in an interview Tuesday with The Los Angeles Times, has been condemned by New York police Commissioner William Bratton and numerous police groups, including the National Association of Police Organizations.
The association urged its members not to work security for any of Tarantino's films. And New York Patrolmen's Benevolent Association boss Pat Lynch called Tarantino a "cop-hater."
Tarantino, who won Oscars for writing "Pulp Fiction" and "Django Unchained," said he was "surprised" by the angry reactions to what he said at the rally, which was organized by a group called RiseUpOctober.
"I'm a human being with a conscience," Tarantino said at the Oct. 24 rally. "And if you believe there's murder going on then you need to rise up and stand up against it. I'm here to say I'm on the side of the murdered."
He said on Wednesday that he "was under the impression I was an American and I had first Amendment rights."
Earlier Wednesday, Texas Rep. Ted Poe, a Republican, called Tarantino's comments "idiotic" and said they "encourage mischief and crimes against peace officers."
Tarantino insisted he's not anti-police.
"It's much easier to feign outrage and start arguments with celebrities than it is to deal with the fact that the citizenry has lost trust in (police)," he said.
As for whether the threats of boycott are rattling the distributor of "The Hateful Eight," the Weinstein Co., Tarantino said it's probably "a pain in the butt" for the company but concluded, "They stand behind me."
On Tuesday, the Weinstein Co. said Tarantino "should be allowed to speak for himself."
Tarantino also is the director of movies including "Kill Bill" and "Reservoir Dogs." ''The Hateful Eight," starring Kurt Russell and Samuel L. Jackson, is scheduled for release in late December.