Storm rips roof off Florida home in Fern Park: 'It was just kind of crazy' says homeowner
FERN PARK, Fla. - Several homes in one Seminole County community were damaged when afternoon storms passed through the area on Thursday.
A homeowner in Fern Park said he heard a loud rumble as heavy rain and strong winds kicked up just after noon.  He ran outside to discover his roof had been peeled off his home on Gladwin Ave.
"It's shocking, especially to see all the other houses around here that weren't touched at all," said the homeowner, Steve Mosley.  "So it was just kind of crazy."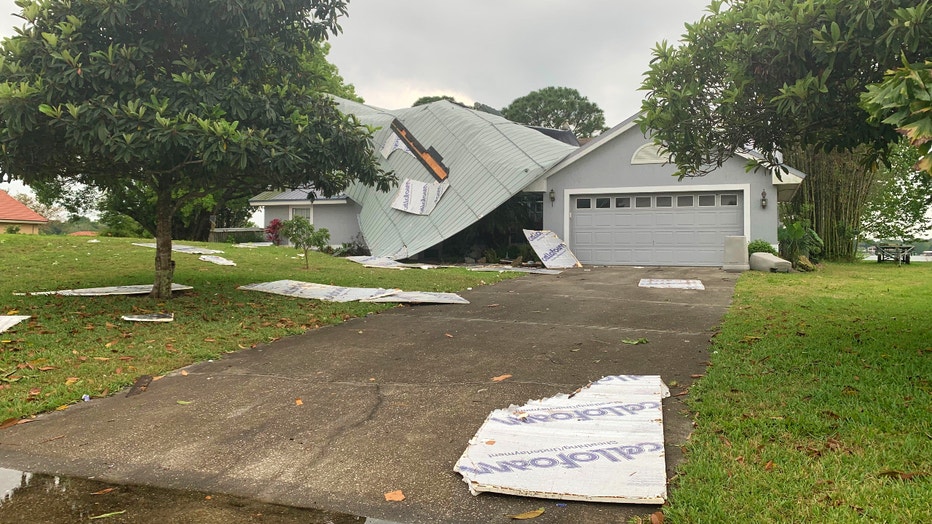 A home in Fern Park received damage during an afternoon storm on Thursday, April 7, 2022.
Mosley said the wind was coming straight at his home one minute, then started coming in different direction, "and then we heard the big loud noise."
He was with his girlfriend at the time the storm struck.
"She was shaken for quite a bit," he said.
Other residents in the neighborhood told FOX 35 News that saw "funnels over the house." 
"The system was moving extremely fast. It got over the house and it just like a pinpoint, point of a pencil I use the term, it came down," said neighbor David Momsure. "The damage was instantaneous. Part of the roof ended up in this lake back here, all the way over here."
"Radar confirmed the severe storm was rotating, and it's possible a brief tornado was produced," said FOX 35 Storm Team Meteorologist Brooks Garner as he reviewed radar imagery. "The radar beam height in that location is 3,900 feet above the ground, so this would've been a very low-level circulation."
Garner said the National Weather Service will survey the damage to determine if, in fact, it was a tornado.
"I always dreaded the hurricanes. Now I'm going to dread tornadoes just as much," said Mosley.
Orlando Weather: Storm alerts, live interactive radar, forecast, and more
Click here for the latest Central Florida news, Florida stories, and local headlines.