Recipe: Chicago hot dog Cuban sandwich
This week marks the return of Thursday Night Football on FOX. Tonight's game features two Super Bowl MVP's, Tom Brady and Nick Foles. To accompany this Tampa-Chicago matchup, Dr. BBQ -- a Chicago native and Tampa resident -- cooked up this combination of the cities' two most famous dishes: Cuban sandwiches and hot dogs, respectively.
Watch the video above for cooking tips and check out the recipe below.
INGREDIENTS:
4 pieces fresh Cuban bread, each about 6 inches long and split
Yellow mustard
Chicago-style bright green relish
4 hot dogs, spilt lengthwise
8 slices deli ham
8 slices Swiss cheese
Vegetable oil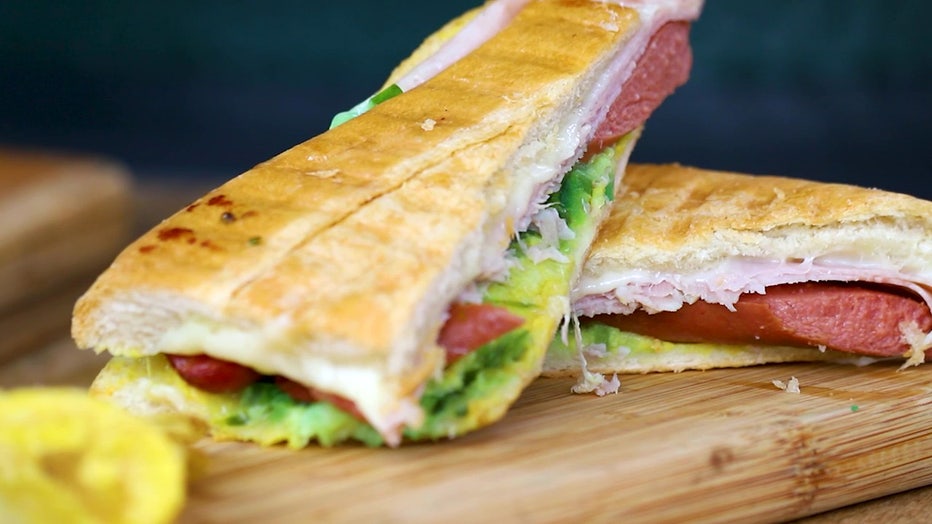 INSTRUCTIONS
Prepare the grill to cook over medium heat with a griddle and a skillet or sandwich press in place and pre-heated. 
Place the hot dogs on the griddle and cook them until warmed through and golden brown. Remove and set aside.
Brush the cut side of the bottom breads lightly with mustard. Spoon a little of the relish on each and spread it evenly. Lay two hot dog halves on top.
Top each sandwich with two slices of ham and then two slices of cheese. Add the top buns.
Drizzle a little oil on the griddle. Add the sandwiches and top them with the skillet or press. Push down to press the sandwiches. Cook for a few minutes on each side until the bread is golden brown and the cheese is melted. 
Cut on a long bias and serve while warm.  
Makes four servings.