Queen Elizabeth II remembered by UK on 1-year anniversary of her death
LONDON - With gun salutes and tolling bells, Britain is marking the first anniversary of the death of Queen Elizabeth II and the ascension of King Charles III, who remembered his mother as a symbol of stability during her 70-year reign.
Charles and Queen Camilla are observing the anniversary at the family estate in Scotland and attended a service of remembrance at a small church nearby, where the late queen worshipped.
"In marking the first anniversary of her late majesty's death and my accession, we recall with great affection her long life, devoted service and all she meant to so many of us," Charles said in a recorded message. "I am deeply grateful, too, for the love and support that has been shown to my wife and myself during this year as we do our utmost to be of service to you all."
Charles also released a previously unpublished photograph of the queen that shows her at the height of her power at age 42. The picture by Cecil Beaton, a noted fashion photographer who often shot members of the royal family, shows Elizabeth in the robes of the Order of the Garter and wearing the Grand Duchess Vladimir's Tiara, made of 15 interlaced diamond circles.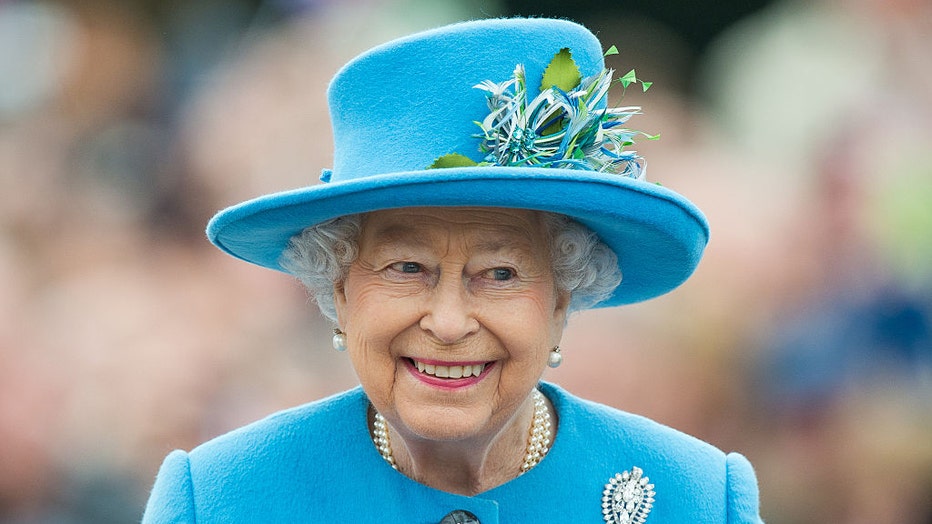 FILE-Queen Elizabeth II tours Queen Mother Square on October 27, 2016 in Poundbury, Dorset. (Photo by Samir Hussein/WireImage)
The queen's death triggered an outpouring of national mourning as hundreds of thousands of people filed past her coffin to honor the only monarch most had ever known.
"People across the U.K. — whether they had the good fortune to meet Her Late Majesty or not — will be reflecting today on what she meant to them and the example she set for us all," Prime Minister Rishi Sunak said in a statement.
Elizabeth, who took the throne at the age of 25, was a broadly respected figure whose constant presence helped unify Britain as it negotiated the end of the empire and the growth of a modern, multicultural nation fueled by immigrants from around the world. Her death triggered questions about the future of the monarchy.
RELATED: King Charles III's coronation part of long evolution for Queen Camilla
But Charles has moved smoothly into his new role, avoiding controversy and concentrating on building bridges between the four nations that comprise the United Kingdom and the myriad ethnic and religious groups that make up its population.
Military units will commemorate the king's accession to the throne by firing salutes at the Tower of London on the east side of the capital and Green Park near Buckingham Palace. The bells of Westminster Abbey will peal at 1 p.m.
Charles wasn't expected to meet with Prince Harry during his estranged son's whirlwind visit to Britain.
Harry traveled to London from his home in California on Thursday to take part in the annual awards ceremony sponsored by WellChild, which helps seriously ill children get the treatment they need at home rather than in a hospital. Harry, who has supported the charity since 2007, told the audience that his grandmother would be proud of them.
RELATED: President Biden and first lady Jill Biden pay respects to the queen
"I know exactly one year on that she is looking down on all of us tonight, happy we're together, continuing to spotlight such an incredible community," he said.