Prescription drug drop-off boxes deployed in Marion County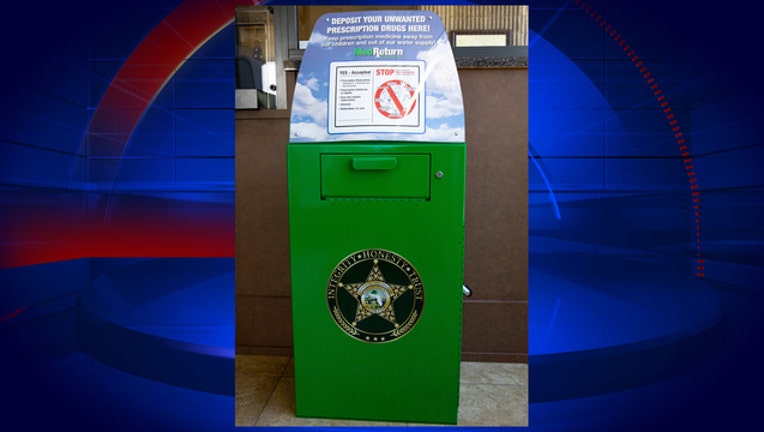 OCALA, Fla. (FOX 35 ORLANDO) - The Marion County Sheriff's Office (MCSO) has deployed prescription drug drop-off boxes, with the goal of combating the opioid crisis. 
The boxes provide people a way to safely dispose of their prescription medications which have the potential to fall into the hands of those who may abuse them. 
 
"With the contribution of funds from Advent Health and the Florida Department of Health of Marion County, we are able to have a prescription drug drop-off box at each one of our MCSO district offices as well as the Belleview Police Department ," said Marion County Sheriff Billy Woods.
Drop-off locations are listed below:  
MCSO Main Operations 692 NW 30th Ave.  Ocala, Fl 34475 

MCSO South Marion District Office 8230 S.E. 165th Mulberry Lane Villages, FL 32162 

MCSO Dunnellon District Office 19995 SW 86th St. Unit 3 Dunnellon, FL 34433 

MCSO Silver Spring Shores District Office 501 Water Road  Ocala, 34472 

MCSO South Multi-District Office 3260 SE 80th Street         Ocala, Fl 34480 

MCSO Ocklawaha District Office 13985 SE Hwy 25    Ocklawaha, FL 32179 

MCSO Marion Oaks District Office 294 Marion Oaks Lane Ocala FL, 34472 

MCSO Southwest District Office 9048 SW State Rd. 200 Ocala, FL 34481 

MCSO North Multi-District Office 8311 N Hwy 441 Ocala, FL 34479 

MCSO Northeast District Office 25056 East County Road 316 Ft. Mccoy, FL 32134 

MCSO Forest District Office 16000 E. Hwy 40 E   Silver Springs FL, 34488 

Belleview Police Department 5350 SE 110th St Belleview, FL 34420