Over 200 dogs, cats rescued from 'horrifying' conditions at Orange County home
ORANGE COUNTY, Fla. - More than 200 dogs and cats have been rescued from an Orange County home after being found living in deplorable conditions. Crews were seen gutting the home Thursday.
The Orange County Sheriff's Office says it was evicting the people who lived in the home as the dogs and cats were being rescued. 
"This one's the friendliest out of all of them but you just have to go really very slow."
Shaking and scared, 200 dogs and cats are recovering after being rescued from a home in Orange County earlier this week. 
"At some point, we didn't even know how many we had," said Debbie Bruno, who runs A New Beginning Pet Rescue.
Bruno and Florida Little Dog Rescue spent two days pulling animals from the home.  
"They basically were just peeing and pooping wherever. Things were just destroyed. Holes in the walls. Cats were hiding in soffits," said Bruno.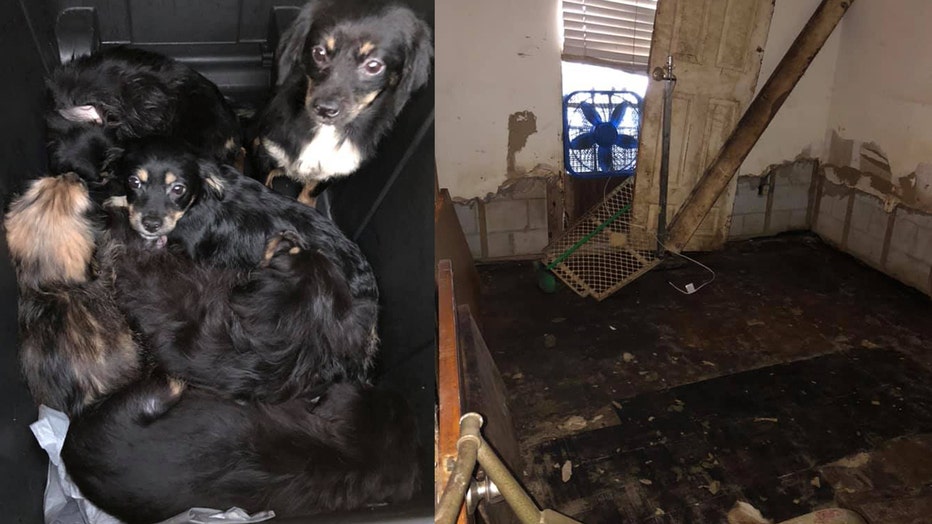 (A New Beginning Pet Rescue / Facebook)
She says the animals were covered in urine and feces, loaded with hookworms and some were pregnant. She says some may not have ever been outside. Despite everything, Bruno says they were in surprisingly good health, which is why deputies say there are no criminal violations or charges pending. "They did not want to let any of these animals go. It is a mental problem," said Bruno.
Neighbors say they knew there was something going on at the house but had no idea how bad it was. "You could smell it from here. You could sit out here and smell the piss," said Neftali Ortiz, who lives four doors down. 
Most of the animals are now split between the two rescues and vet offices, but the animals are barely socialized, so it'll be some time before most are ready to be fostered or adopted.
"They're animals. They rely on us."
Donations are being accepted to help cover the medical costs of the rescued animals care. You can also help by sending items listed on the rescue's Amazon Wish List HERE.