19-year-old dead after officer-involved shooting near Mall at Millenia, Orlando Police say
ORLANDO, Fla. - A 19-year-old man died Saturday night near the Mall at Millenia after he allegedly pulled out a gun and fired shots at an officer, according to Orlando Police Department.
Police identified the man on Sunday as Sebastian Sepulveda Roman.

Chief Orlando Rolon told reporters Saturday night that an off-duty police officer was working extra duty at the mall and was escorting Roman off property when Roman pulled out a gun and began shooting at that officer.
The officer did not shoot back out of concern for the safety of other people around, Chief Rolon said.
The suspect ran away and was chased by the off-duty officer and an on-duty officer who was nearby, police said.
Across the street near the Olive Garden, there was an exchange of gunfire between Roman and the on-duty officer. Roman died at the scene, though it is unclear how he died or if he was shot by police.

The Florida Department of Law Enforcement will investigate the shooting, which is standard protocol for all police-involved shootings. Orlando police will then conduct its own internal investigation, which is standard procedure.
"We will conduct a thorough review of this incident. My condolences go out to the family of the individual deceased and to the officers and their families who are now dealing with a traumatic experience," Chief Rolon said in a statement.
Sunday afternoon, Orlando police shared a photo of the gun apparently used by Roman in the shooting. Police said the gun was stolen.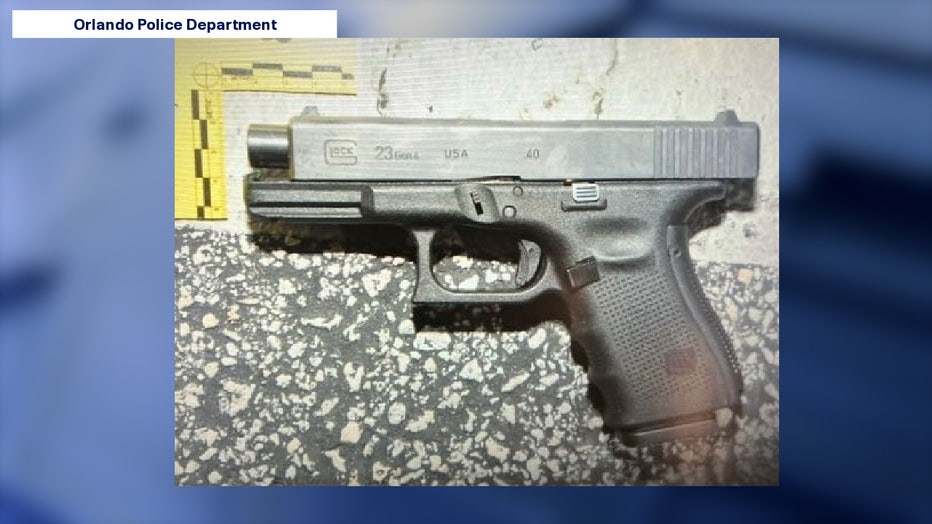 (Photo via the Orlando Police Department)
TRENDING: 'This student's behavior is sickening': Florida 5th grader arrested for mass shooting threat
At the Olive Garden, customers and employees inside the restaurant went into the kitchen after hearing gunshots.
"It was so scary because you know that thing that just happened at the (Texas) elementary school, so it was really scary, everyone was crying. There was 50 customers just in our kitchen," said bartender Chelsea Riley.
MORE NEWS: 4 teens shot during large house party in Malabar, deputies say