Orlando police officer, WWII veteran develop lasting friendship
ORLANDO, Fla. - An Orlando police officer and a World War II veteran have developed a beautiful friendship over the years.
Cpl. Natalie Bartimac met her friend Gene when she responded to a call in 2017 involving the passing of his wife.  He had been out working in the yard and came inside to find his wife of 60 years, Mae, unresponsive on their living room floor and called 911.  
"She was one of the first people here. She stayed right here with me. And I wasn't in very good shape," Gene explained.  
Since then, Cpl. Bartimac began to check in on Gene, developing a friendship.
"Getting to know him, getting to talk to him that day, I said I should come back him and check on him," she said.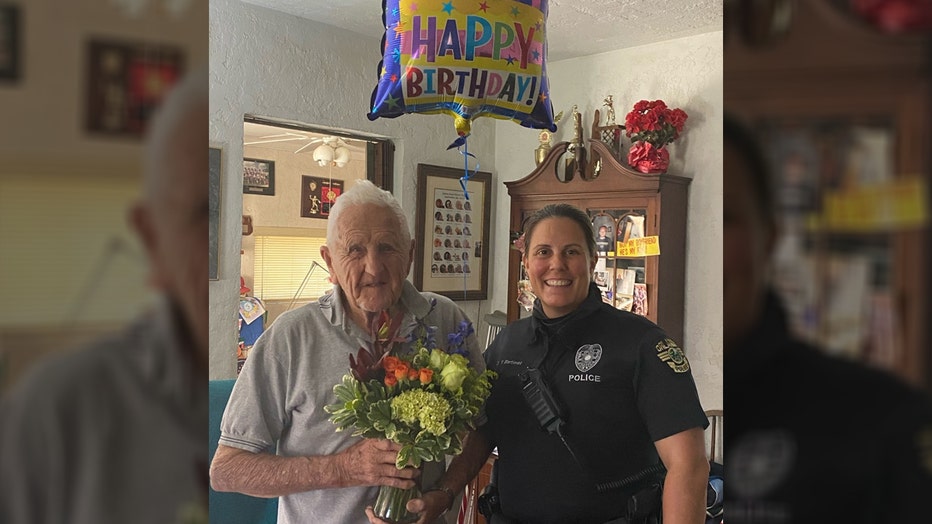 The corporal's grandparents had also been married more than 60 years.  Her grandmother had passed away, then a month later, her grandfather died.  
"I felt like if I came here and I checked on him, made sure he had what he needed, it would brighten up his day, give him hope to keep wanting to go on," Cpl. Bartimac said.
So at least once a week, since November 2017, she pops in to check on Gene.  
"This lady here gives me a reason to live," Gene said.  Most of the time they just sit and talk.  Sometimes on one of the corporal's days off, they go to a restaurant and have dinner together  
"He has a wealth of info that a lot of people don't sit down and take the time to really listen to people and get to know their stories," Cpl. Bartimac said. 
It's hard to tell who enjoys those weekly visits more.  
"This has been my godsend.  She's been, my friend," Gene said.  
When asked about their friendship Cpl. Bartimac said, "It means the world to me. I see how happy he is when I'm here and he brightens my day."
Cpl. Bartimac has also become friends with Gene's daughter.  The women keep in contact updating each other on how Gene is doing. 
Recently, they celebrated Gene's 99th birthday together.
"All best wishes to you, Gene," the Orlando Police Department tweeted.
Watch FOX 35 Orlando for the latest Central Florida news.
TRENDING STORIES: