Oliver's journey: Organ donation gives 4-year-old the gift of life
HOUSTON - Of the 100,000 people waiting for a life-saving organ transplant in the United States, nearly 2,000 of them are children – and more than a quarter of them are under 5 years old.
National Pediatric Transplant Week, which runs from April 23-29, honors and celebrates the gift of life that pediatric organ donation and transplants provide. Brian and Leslie Blankenship know firsthand what that gift means.

While Leslie was pregnant, their son Oliver was diagnosed with Hypoplastic Left Heart Syndrome, a rare, congenital heart defect in which the left side of the heart is underdeveloped.
READ MORE: Biden administration plans to revamp, modernize organ transplant system
The family moved from Arkansas to Houston so Oliver could be treated at Texas Children's Hospital, the top hospital in the U.S. for pediatric heart patients. Oliver was born at Texas Children's in June 2018. He spent his first 234 days in the ICU.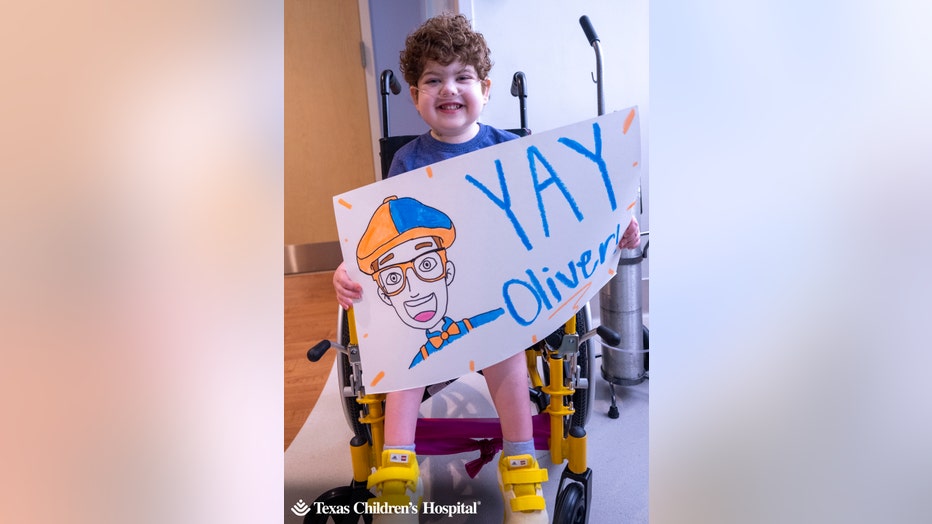 Oliver Blankenship leaves Texas Children's Hospital after a heart transplant (Texas Children's)
"He had to go through a series of surgeries, the first one at 7 days old, not to correct the heart, but to make the right side of the heart do what the left side should do," Leslie said in a video message. "And that's not necessarily life-sustaining, but it gets a lot of kids to a point where they can thrive. Unfortunately it's not a cure, and a lot of kids like Oliver have complications."
Oliver had a second heart surgery a few months later at 4 and a half months old. Months after the second surgery, the family was able to move back to Arkansas for a couple of "great, uneventful years."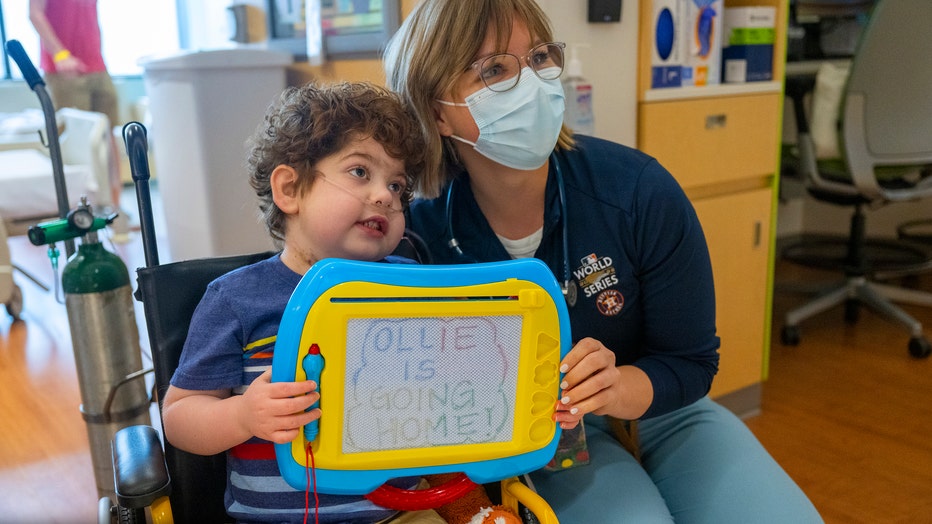 Oliver Blankenship leaves Texas Children's Hospital after a heart transplant (Texas Children's)
But Oliver's heart was still weakening, and after a third heart surgery at Texas Children's in July 2022, Brian and Leslie learned he'd need a heart transplant to survive.
Oliver had heart transplant surgery on January 14, 2023. After 281 days in the hospital, Oliver went home in April, three months after receiving his new heart.
READ MORE: Proposed Massachusetts bill would reduce inmate sentences if they donate organs
"Without organ donation, he wouldn't be here," an emotional Brian said. "It means everything."
According to Donate Life America, most children younger than 1 on the waiting list are in need of a heart transplant. Part of National Pediatric Transplant Week's mission is to eliminate the pediatric transplant waiting list.
For more information on National Pediatric Transplant Week, click here.