Nearly 100 Orange County teachers receive free Master's Degrees from University of Central Florida
ORLANDO, Fla. - Twenty Orange County teachers are graduating with their Master's Degrees from the University of Central Florida this week and their tuition came at no cost.
They are the first of 98 Orange County teachers earning a Master of Education in K-8 Mathematics and Science, paid for by Orange County Public Schools and Lockheed Martin through the Lockheed Martin/UCF Academy program. 
The program has been in place since 1992, but this is the first time the tuitions have been fully funded.
Inside the classroom, teacher Kimberly Rougeux is starting to see change happen. 
One of her dreams is coming true.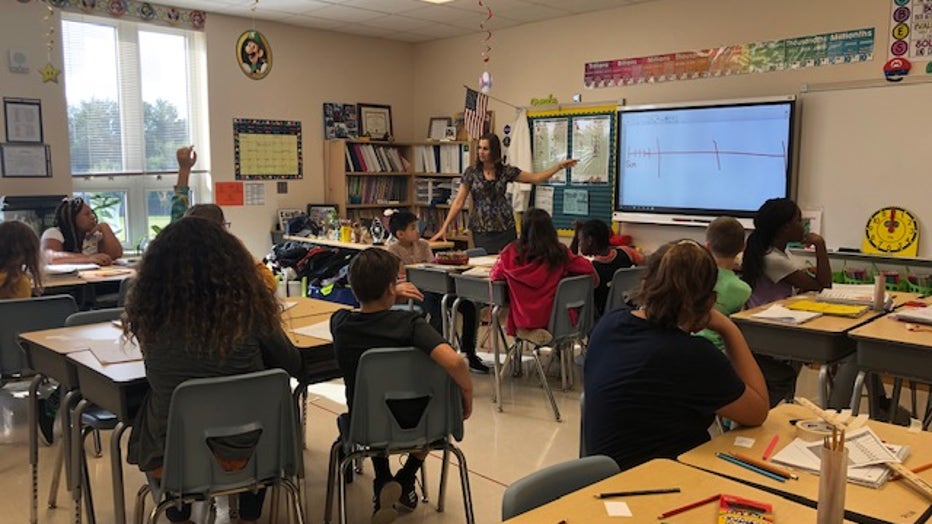 "I'm on my 18th year of teaching and I have wanted my masters for most of that time," Rougeux said.
She's one of 20 Orange County teachers getting a Master's of Education from UCF this Friday for free. 
"When I got that phone call that I got it, I started crying and screaming all at once."
Her new degree is paid for by Lockheed Martin and Orange County Public Schools through a program at UCF. 
It's the first year the program is fully funding these degrees. 
Ninety-eight Orange County teachers are taking advantage. 
But for Kimberly Rougeux, it was crucial. 
She's fostered 11 children in the last five years, and she says she never could have done this on her own. 
"I think there's a lot of teachers that want their master's and it's just not affordable to them on what we make."
The program is geared toward science, technology, engineering and mathematics, otherwise known as STEM, teachers "to help talent and help children learn to grow into STEM careers that then help us transform technology," said LaCresha Martin, an IT manager at Lockheed Martin.
But the purpose of the program is two-fold, not just about STEM education, but it's also about retaining teachers, keeping them in schools teaching. 
Those who go through the program must commit to another three years working in the district. 
"Right now, our retention rate at Orange County Public Schools is at 90 percent. But it's that 10 percent that we're trying to hold onto. And programs like this make a big difference," said OCPS Chief of Staff Bridget Williams.
Staying was a no-brainer for Kimberly Rougeux who is now taking what she learned in the classroom back to the drawing board of her own classroom.
"I'm just so excited."
To be eligible for the program, teachers must teach in an elementary school or teach math or science in a middle school. 
Priority is given to those in Title 1 schools, and the school district asks for a commitment of at least three years after graduation.  
The six-semester program takes two years to complete and is taught by a dozen UCF faculty members in math and science specialties. 
The first group of teachers to have their tuition paid for are set to graduate Friday.
They will be recognized at Tuesday night's Orange County School Board meeting.