National Hurricane Center monitoring tropical disturbance in Atlantic Ocean
The National Hurricane Center continues to monitor a tropical disturbance in the northeastern Atlantic Ocean.
The non-tropical low pressure area is producing showers and thunderstorms with winds to gale force near the Azores as of Tuesday morning. The storm still only has a low chance — 10% — of developing over the next couple of days.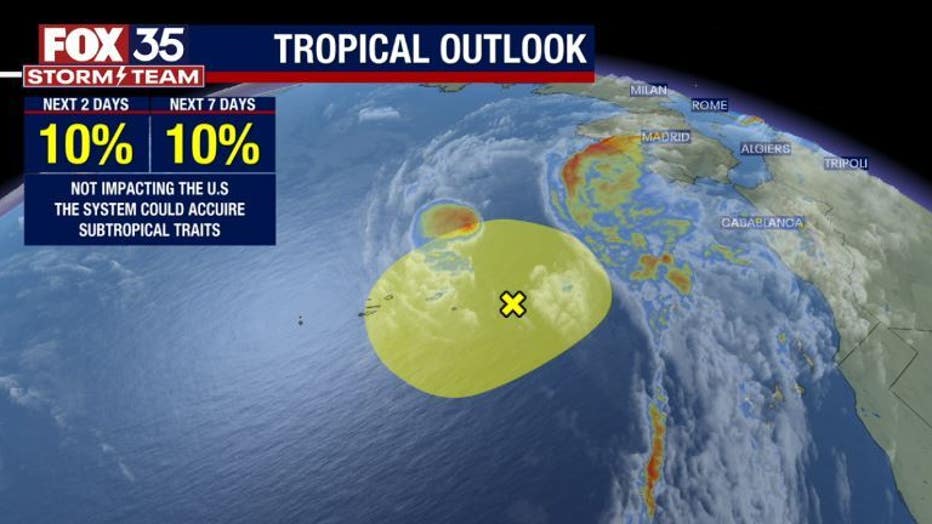 "This system could acquire some subtropical characteristics during the next day or so while it meanders to the east and southeast of the Azores," the NHC said. "By late Wednesday, the system is forecast to move northeastward over cooler waters, and further development is not expected."
Even if the storm doesn't develop further, it's still expected to bring heavy rains and gusty winds across parts of the Canary Islands, Madeira Island and the Azores over the next day or so. 
Last week, Arlene, the first named storm of the 2023 Atlantic hurricane season, formed in the Gulf of Mexico. The tropical storm has since been downgraded to a post-tropical cyclone. 
If another storm were to form, it would be named Bret. 
Hurricane season runs through Nov. 30.