National Hurricane Center monitoring low pressure system in Atlantic Ocean
Our rainy conditions in Florida this week are due to a stationary front interacting with tropical moisture over our region.
While the several inches that have fallen have been a benefit to relieving persistent drought conditions, a low-pressure system is expected to develop along this front, about one hundred miles east of Daytona Beach in the open Atlantic Ocean.
The system could further strengthen into a subtropical storm over the Memorial Day weekend. If named, it would become, "Arelene."
A subtropical storm is similar to a tropical storm, except it has frontal zones, sharing features of both a tropical and non-tropical system. The National Hurricane Center is tracking this potential and has assigned a, "10% chance" for tropical or subtropical development over the next 7 days.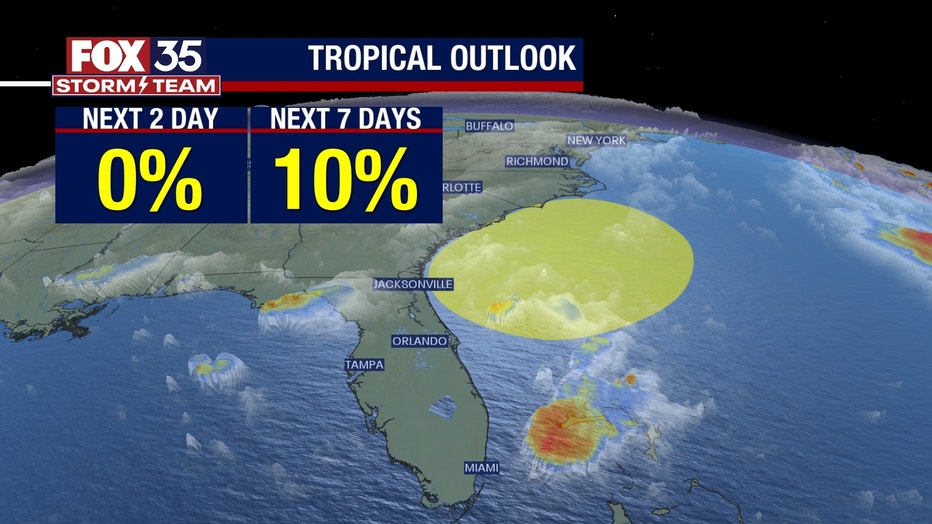 Whatever develops will track northward toward the coastal Carolinas bringing strong winds over 50 mph, dangerous surf, and life-threatening rip currents and torrential, flooding rain.
In contrast, Florida residents and visitors can look forward to a welcome drying trend with sunshine over the holiday weekend as lower humidity is drawn in from the west. 
This will also provide relief from the usual muggy conditions, making for spectacular weekend weather after a dreary workweek.
At the beaches, it's a slightly less sunny forecast. Many will be attracted to visit the beaches as it's Memorial Day weekend and the unofficial start of summer. 
Unfortunately, the development of this system means beachgoers will be greeted by dangerous rip currents, higher-than-normal tides, and rough surf. It's strongly advised that people swim only on beaches with lifeguards in view. For beach-goers aiming to drive onto the sand, high tides may result in closures.
This could especially impact beaches from Daytona to New Smyrna Beach. Finally, sand may also get whipped up and wind-blown in gusts past 30 mph on Friday and 40 mph Saturday.