NASA practices Artemis II splashdown recovery mission
TITUSVILLE, Fla. - The preparation for Artemis II is well underway. The second Artemis moon mission plans to bring astronauts back to the moon for the first time since 1972. This week, crews were training for the day those astronauts return to earth. 
The training session happened in a basin of water near the Kennedy Space Center Vehicle Assembly Building. It was the recovery team's first session to recover people from the Orion Capsule in water. 
The Department of Defense and NASA divers worked together in the training just as they had recovered the Artemis I Orion capsule. Although, this time the capsule had four people on board. 
"It actually behaves just like the Artemis II," said Mark Vazquez, the NASA EGS Program Manager. "Being able to get on it, to be able to climb on top of it and see how much it bounces around in the water gives them more experience."
MORE HEADLINES:
The practice mission starts with sending one person inside the capsule to see how the astronauts are doing.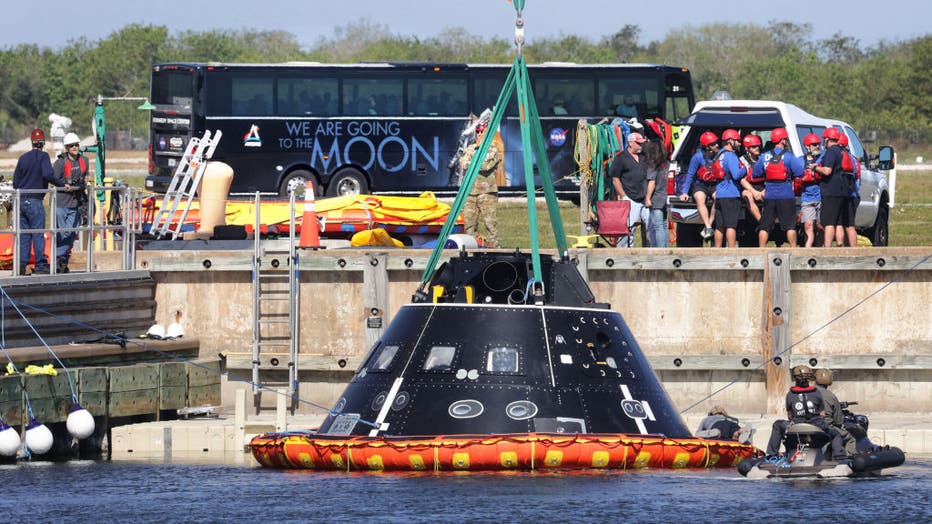 Members of NASA's Orion crew recovery team (right, red helmets) gather as the test capsule is hoisted out of the water during training for the Artemis II mission at Kennedy Space Center, Florida, Launch Complex 39, Monday, Feb. 6, 2023. (Joe Burbank/
"He will see the condition of the astronauts. Verify that they were OK. See if there are any issues or any medical concerns that they are having or need to be addressed," said Vazquez. 
This time, one astronaut is unconscious. The crews work quickly to attach a floating collar around the capsule to prevent it from floating away. Then they hook up a large blowup pad that experts call the "front porch". 
"We have different specialized equipment that we could use. If we had multiple people unconscious at the same time there's also the possibility of bringing in the entire capsule into the well deck depending on the severity of the injuries," said TOSC Landing Recovery Flow Manager Ed Hardy. 
RELATED: Artemis I Mission
The same mission will be done with the same crew members numerous times under a multitude of conditions. Each scenario builds the experience of the crews for the day Artemis II returns to earth. 
"It's amazing how well the operation has gone. The team has melded together," said Hardy. "This is mostly the same team that went out for Artemis I, so these guys have worked together in specialized activities for a period of time now."
Training will continue in the basin over the next few weeks. The next big test comes in July when they take the capsule to San Diego. There they will test their abilities in the open waters.