Miami suburb requires solar panels for all new homes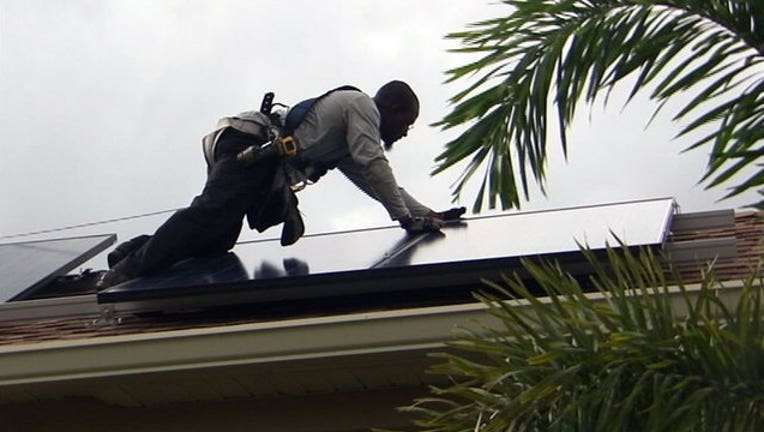 article
SOUTH MIAMI, Fla. (AP) - Rooftop solar panel installations will be required for all new residential construction, along with some home renovations, in a Miami suburb.
The South Miami ordinance that takes effect Sept. 18 was modeled after similar ordinances recently passed by San Francisco and three other California cities.
City commissioners voted 4-1 Tuesday to approve an ordinance requiring 175 square feet of solar panels per 1,000 square feet of roof, or 2.75 kilowatts per 1,000 square feet of living space, whichever is less.
It applies to single-family residences, townhouses and multi-story residential buildings. Renovations replacing over 75 percent of a residential structure or extending a structure by over 75 percent also fall under the ordinance.
Homes where the roofs fall under significant shade from existing trees or other structures may be exempt.
Mayor Philip Stoddard, a Florida International University biology professor whose home runs on solar power, championed the requirement, which is the first of its kind in Florida.
Stoddard said solar power reduces the cost of home ownership, helps sell houses faster, creates jobs and helps fight the effects of climate change by reducing carbon emissions. He said an increasing number of homeowners are converting to renewable energy, but builders were not adding solar panels to new residences.
"In South Florida, we're looking at being wiped out by sea level rise," he told The Associated Press on Wednesday afternoon. "Everybody has to do their part. Every rooftop needs to be harvesting free sunlight."
Commissioner Josh Liebman voted against the ordinance. According to a Miami Herald report , he said he supported "freedom of choice" for residents. He also worried the city would have to make up for reduced utility fees.
California lawmakers have been considering a similar statewide requirement for rooftop solar panels on new homes.
Last year, Florida voters approved changing state law to reduce property and other taxes on solar systems in an effort to make solar power more affordable in Florida. They also rejected a utility-funded ballot measure that would have opened the door for changes to the system of credit earned by homeowners who install solar panels and produce surplus energy.
Solar homeowners who send extra power back into the energy grid earn credit that can offset the price of any energy they might use. Utility companies argued that those homeowners unfairly took advantage of infrastructure costs paid by other customers.